Complete Solution for How to Export Yahoo to MBOX easily on Mac
---
Summary: Sometimes, users find a need to export Yahoo to MBOX on Mac. There could be plenty of reasons behind this. Let us discuss the reasons and after that solutions for this issue. This post targets to export Yahoo emails to MBOX format.
Yahoo is a webmail application which can be accessed from any platform and is very common among users. Sometimes, users get worried about their important emails of Yahoo account and to save them, users can export them locally to their system. So, by exporting Yahoo emails on the local system, these emails can be saved and accessed anytime.
Core reasons to export Yahoo emails to MBOX on Mac
Basically, there are two core reasons to transfer Yahoo Mails to MBOX format – archiving and backup. Data over the cloud is not safe from hackers and sometimes, users want to access Yahoo Mailbox data in offline mode.
Mac users get Apple Mail pre-installed on their systems, and to export Yahoo mailbox data in Apple Mail, users are required to export the database in MBOX format to access in Apple Mail. As Apple Mail is completely secure and prevents user database using spam filters.
Complete Guide to export Yahoo Mails to MBOX format
In order to export Yahoo mailbox data to MBOX format, we refer you to go for Mailvita Yahoo Backup for Mac. It is an advanced and safe solution to download Yahoo database to MBOX in an effortless manner. The application allows transferring Yahoo emails and attachments in a safe manner. With the simplified interface, one can manage the software without technical expertise. Without any extra application use, Yahoo emails of user desire are downloaded without any issues.
Only 4 simple steps to transfer Yahoo Mails to MBOX on Mac
With the software, only 4 steps are required to export Yahoo to MBOX format. Let us know every step of the application discussed below –


Launch the software:- The foremost step is to download, install, and launch the program on your Mac machine.


Provide Yahoo login credentials:- Once you run the software, you need to provide login credentials of Yahoo account. Then, hit the "Authenticate User" button.




Selection of Folder and Output format:- In this step, users need to select a folder of Yahoo account that you want to export. Also, select MBOX format in the Output format.


Choose Destination Path:- Now, users need to pick an output destination. Click on the Browse button and select any location of your choice. Finally, hit the "Backup Now" button. This will commence the process.



Once you get MBOX files on your system. You can simply move these files to Apple Mail on Mac. Here are the steps for this import –


Open Apple Mail client on your system.


Go to Menu and click on the File tab. Select Import mailboxes.




An Import window will open, Click on Other and then on Continue button




Choose MBOX files option. Click on messages and hit the Choose button



Select MBOX files or folders that you want to import and click on Continue button



This will start the import process.


Once the process gets completed, you will find a folder of imported MBOX files.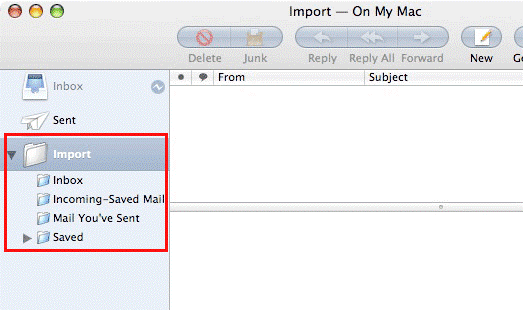 Time to wrap up
Now, users can easily export Yahoo emails to MBOX format using the above discussed easy solutions. The program works effectively on all Mac versions. It works without any data losses and without causing any harm to any file. Unlimited Yahoo accounts emails are exported at a time without any troubles. Users can take a trial version before moving ahead for the license version.
---