Export Contact Files from Apple Mail to Outlook
---
This article explains the entire procedure to export Apple Mail contacts to Outlook application but prior directly moving to the solution, let us brief both the applications. Then find out the need to export contact files from Apple Mail to Outlook.
Apple Mail is a popular email client used by Mac OS and it is the default email client. It can be easily configured with IMAP, POP3, and Exchange accounts. Since it is launched, Apple has made continuous efforts to improve mailing features, including message integration within the Notification Center, iCloud reliability improvements, etc.
Outlook is another famous email client for Windows and Mac users. It is very simple to use and offers all emailing features and easy management of user data items.
Reasons to export Apple Mail contacts to Outlook
Users may have different reasons to transfer Mac Mail contacts to Outlook.
If a user is switching from Mac OS to Windows and wants to use Outlook on Windows.
When a user needs to share contacts from Mac machine to Windows user.
When a user is trying to switch from Apple Mail to Outlook on Mac itself as Outlook is available for Mac OS as well but it uses OLM file.
Now, let us begin how to move Mac Mail contacts to Outlook.
Solution to import Apple Mail contacts to Outlook
The process of importing Apple Mail contacts is divided into two parts – export contacts from Mac Mail to VCF format and then import vCard files in MS Outlook.
Export contacts from Apple Mail
With Apple Mail, contacts are exported in two formats – VCF and ABBU. ABBU is only compatible in Apple Mail and is not supported by Outlook. So, we need to first add Apple Mail contacts to contacts application and then export them.
Add Apple Mail Recipients to Contacts application
First, open Apple Mail application.
On toolbar, click on Window and then go to Previous Recipients
A new window will open showing list of all previous recipients on Apple Mail.
You will find "Add to Contacts" option.
Select all or desired contacts that you need to export and click on Add to contacts button.
Now, we have required contacts added. Let us export them.
Steps to convert Mac Mail contacts into VCF format
Open the Contacts application on your system.
You will find the list of all contacts. Select desired ones or all to export.
Before exporting contacts, choose whether to export notes and photos in contact details. Go to Contacts > Preferences > vCard. Tick for Export notes in vCards and Export photos in vCards.
Now, export the contacts. In the Contacts application, click on File, click on Export and then choose Export vCard.
Select the path and assign a name for your contacts export file.
Importing vCard files in MS Outlook
In the above section, we have covered simple way export contacts from Apple Mail. Users first need to convert Mac Mail contacts into VCF format and then import vCard files in Outlook by following the above steps. Then, this file can be moved from one machine to another using removable storage devices like external storage disk, a USB, pen drive, etc. Alternatively, you can send this file on email and download it on your Windows machine. Any cloud service can be used to send and share the file.
Steps to import vCard file in MS Outlook
Open Outlook application. Click on File menu and choose Open & Export. Then, click on Import/Export.
Select Import a vCard file in Import & Export wizard. Click Next.
Go to the location where VCF file is saved, select VCF file and click Open.
This will import contacts and you will see contacts under My Contacts in Outlook.
Finally, hit the Finish button.
Using VCF format, users are able to export Apple Mail contacts to Outlook. But this process is complex in nature and time consumption is more in following this method. We are here with a better solution for users that provides instant working and easy steps. To know it, let's move ahead.
By using this smart professional tool, users can import emails as well as contacts from Apple Mail to Outlook PST format. Using this software, all your Apple Mail items are exported into PST format of Outlook which can be easily imported into any Outlook version such as Outlook 2019, 2016, 2013, 2010, 2007, and others. The program is freely installable on all Mac OS editions.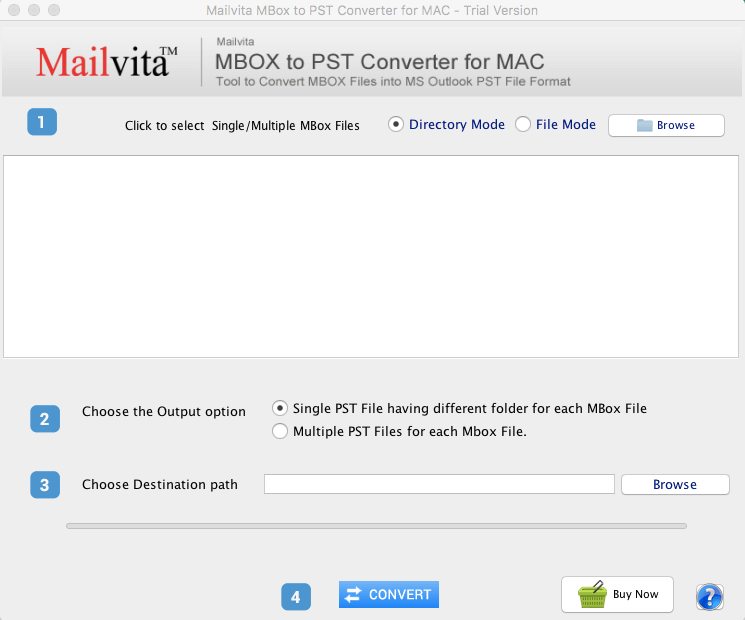 Concluding Lines
This blog showed you multiple ways by which you can export contact files from Mac Mail to Outlook. We have provided a step by step guide for converting Mac Mail contacts to VCF format and then importing vCard files in MS Outlook using manual solution. Next, we offered a professional solution for the same if you face problems with manual solution as it is lengthy. The choice of method selection is totally users however for instant and safe results, professional solution is suggested to use.
Frequently Asked Questions