Mac user wants a simple solution to archive Outlook for Mac to PST format. Users have multiple reasons to convert Outlook for Mac files to PST format. To move Mac Outlook files & folders manually is a little bit complicated as compared to the direct method. Using the direct method, we will show you in this article to complete the conversion with full accuracy. This will smartly convert Outlook for Mac emails with attachments and other data items.
Reasons to export Mac Outlook to PST
Windows Outlook does not support OLM files. To read your OLM files in MS Outlook for Windows OS, it is required to convert OLM to PST and then import the PST file to Outlook for Windows. So, if a user wants to move Outlook for Mac to Outlook for Windows, then they need to perform OLM files to PST conversion.
Keeping backup of Outlook for Mac will always a good idea. Emails play an important role for users in the professional sector. If you were using Mac Outlook and want to switch to Windows, then you need to convert OLM to PST.
A perfect method to convert OLM to PST on Mac
Using Mac OLM to PST Exporter for exporting Mac Outlook files i.e. OLM files to Outlook PST format. This is a perfect method that does not need technical expertise to use it. The GUI of this program makes it easy for users to complete the conversion. There are no compatibility issues with this application. It smoothly supports both Windows Outlook and Mac Outlook all editions.
Get a step by step procedure with this software to export OLM files to PST –
Install Mailvita OLM to PST Converter for Mac OS.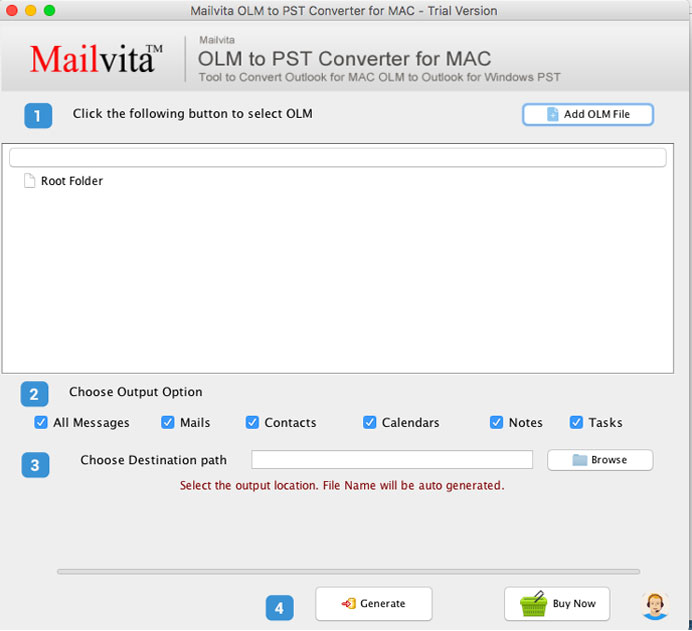 Click on add OLM File button and load Mac Outlook OLM file.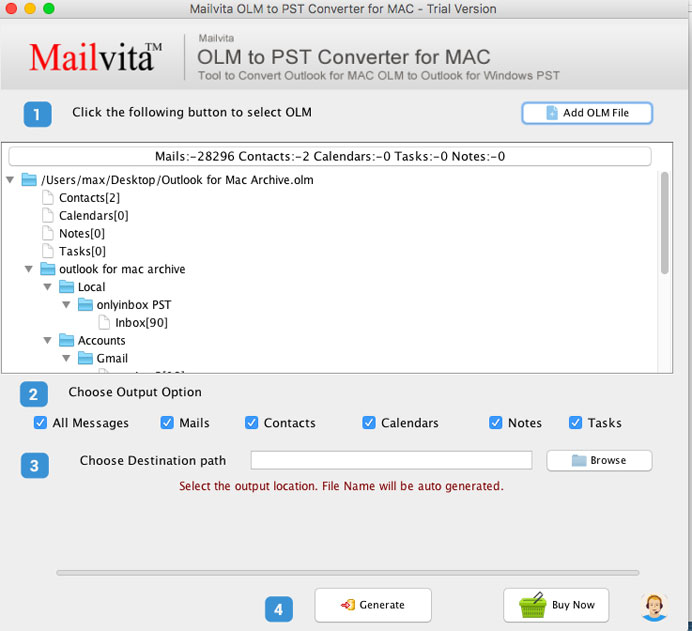 Select destination path for PST file.
Hit Generate Now button and this will start conversion of Outlook for Mac to PST.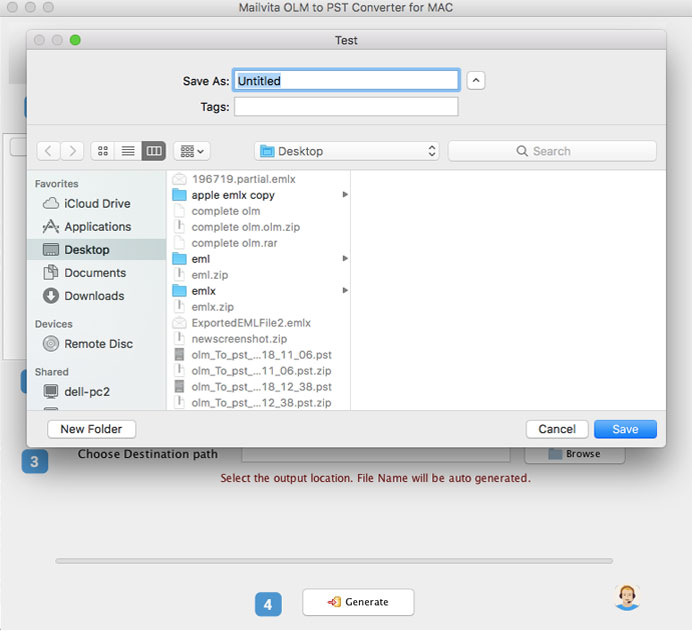 Remarkable features of the Software
The software offers multiple amazing features to export Outlook for Mac files to PST format. Know few major features of the software –
Convert Outlook for Mac all items
The software easily converts Mac Outlook all items like emails, contacts, notes, calendars, tasks, etc. into PST file format. Without any trouble Mac Outlook all items conversion to Windows Outlook PST format is performed.
Allow select items conversion
If users want to convert selected items from OLM file, they can simply mark desired items. The software allows selective and complete data items conversion of Outlook for Mac file to Windows Outlook data file format.
Instant and Easy Conversion Process
The complete conversion is executed in a few simple clicks. The process involves mainly three simple steps – add Outlook for Mac file, select location for resultant PST file, and Convert Now. Without any hassles, the conversion is performed without any data modification.
Maintain OLM data hierarchy
There is complete maintenance of email attributes and data items' original hierarchy. Users can easily archive Outlook for Mac to PST format without any disturbance to the subfolders and folder hierarchy.
Support both Outlook all versions
All editions of Mac Outlook and Windows Outlook are supported by the application. Any Outlook for Mac edition OLM file is exported to PST file format to easily open on all versions of Windows Outlook.
Permit any large Mac Outlook OLM File
Any huge size Outlook for Mac OLM file is effortlessly transferred to PST file format. The software does not impose any limitations on OLM file size for conversion to Windows Outlook.
Wrapping Up
From this write-up, you will get the best OLM to PST Migrator for Mac OS. The program offers advanced features to smoothly complete the conversion. It offers a demo and license version. With the demo version, users can check the tool working before investing in the program.
Frequently Asked Questions
Yes, the software supports the conversion of OLM emails, contacts, calendars, notes, tasks, etc. into Windows Outlook PST file format.
Manual solutions are not safe to use. Therefore, third-party solutions like this OLM to PST Converter are considered the best ways to transfer Outlook Mac files to Windows Outlook data file format.
Yes, you can simply install the program on all editions of Mac OS including 10.15, 10.14, 10.13, 10.12, 10.11, 10.10, and others.