Summary: If you are planning to shift from Mac to Windows? Then, you will surely need to convert your mailbox data from Mac Outlook to Windows Outlook. If you were already using Outlook for Mac and now wish to migrate to Outlook for Windows then it means you need to Convert Emails, Contacts, Calendars, from Mac Outlook to Windows Outlook PST file format.
To get the answer of this question 'how to convert Mac Outlook file to Windows Outlook PST file format?', you must read this post.
Manual way to Convert Mac Outlook mailbox to Windows Outlook
Prior you go for the manual way, you should have a copy of Mac Outlook OLM file. This process has 4 parts and each part has many steps.
1. Create an IMAP account
Open Gmail account or other webmail account and then go to Settings
In settings, choose Forwarding and POP/IMAP tab
Now, check the status of IMAP and if it is not enabled, enable IMAP and save the changes.
2. Configure Mac Outlook with IMAP account
Open Mac Outlook and then tap to the Tools tab and choose Accounts.
Pick the Email option and enter email id, password & other information.
Go for IMAP Server and pick SSL Connection with SMTP Server and 465 as a port number. Then, hit Add account.
3. Export emails from Mac Outlook to IMAP account
Open Mac Outlook and then choose the item you need to move.
Right-click on the chosen folder then Move – Copy to folder
Search the name for IMAP folder and pick Copy
After this, hit Send/Receive button and you will find all OLM emails in the IMAP account.
Also Read- Import Mac OLM mailbox into Outlook 365
4. Configure Windows Outlook with the same IMAP account
Start Control Panel and choose Mail-Email Accounts-New
Choose Manually configure server settings and then press the Next button.
Pick IMAP/POP Settings and press the Next button.
Provide IMAP account credentials and incoming/outgoing server details. Then, hit the More settings button.
Go to the Advanced tab and provide port number 993 in IMAP Server and choose SSL connection.
Enter SMTP Server port number as 465 and choose SSL Connection. Then, hit OK.
Press Next button and wait for the process. Finally, hit the Finish button.
Problems users face with the manual method
A lot of users find this free method lengthy and time-consuming. Also, you need to be very careful while implementing the manual solution. Otherwise, you may face data loss issues.
Also, non-technical users find this method complex in nature and try to avoid these solutions. To come out of this issue, we suggest users to go for third-party software.
Third-party Software to simply Convert Mac Outlook data to Windows Outlook
If you want an easy and safe way to convert Mac Outlook emails, contacts, notes, tasks, and other items to Windows Outlook, then we suggest you to opt for Mailvita Mac Outlook OLM to PST Converter. This is a smart and simple solution that not only performs the conversion on Windows but also on Mac platforms. You can easily export all OLM file data into PST file format by using this program. You can filter items to export from Mac OLM file directly to PST file format. By presenting OLM file data on the screen, users can export its data to PST file format. In a structured manner, all data of OLM file is presented on the screen prior moving to PST format. With proper data safety, all OLM mailbox data is securely moved to PST file format.
Without the need for installing any Outlook (Mac & Windows), the software executes the conversion task.
Here's how you can use this software and perform the conversion:
Install, launch and start this software on your Windows or Mac system.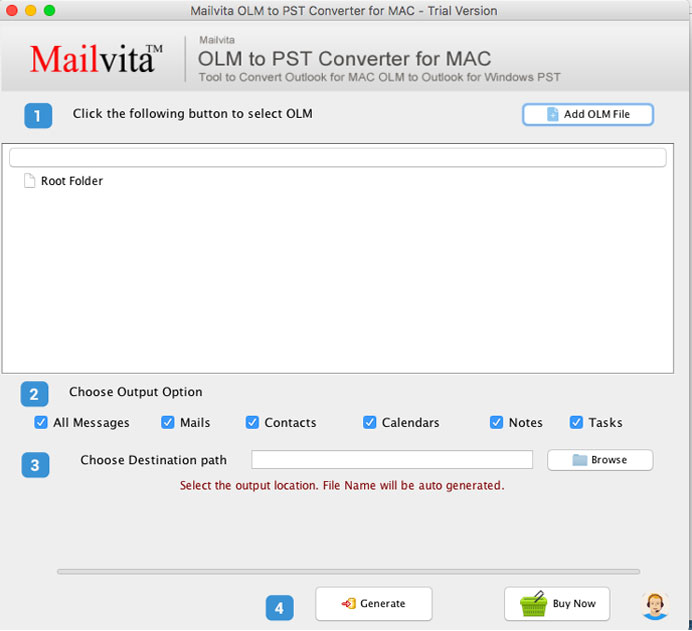 From the software screen, select the OLM file you want to convert using the 'Add OLM file' button.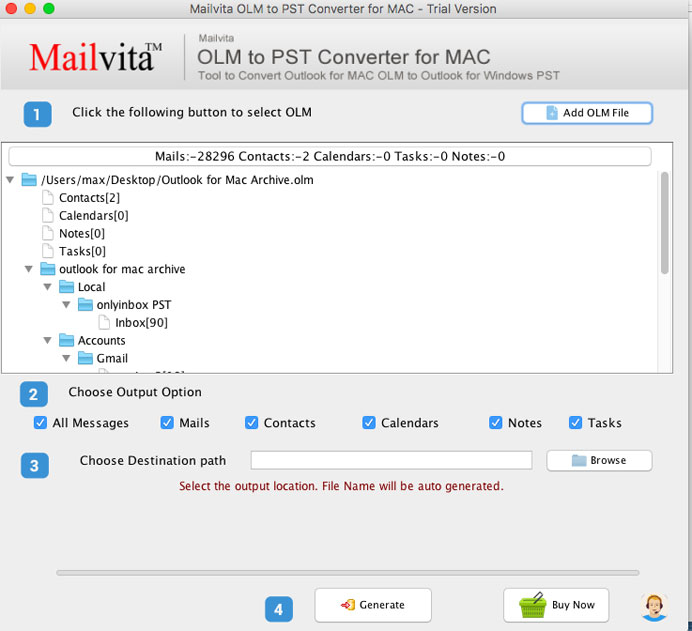 Now, get the OLM file preview and choose the data type to export. You can move all items or desired ones.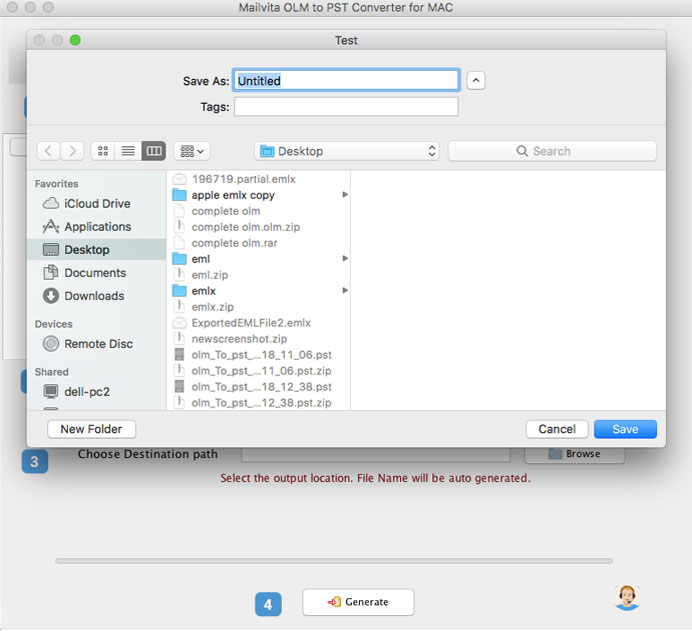 Then, set the preferred location for saving the resultant PST file.
To commence the conversion, hit the Generate button.
Once you complete the steps, you can see the output PST file containing all items of OLM file. Now, you can access this data file in Windows Outlook.
Conclusion
The data conversion from Outlook for Mac to Outlook for Windows is not so tough, only you need to have a correct solution. There is no straightforward manual way that can perform the conversion. Also, the manual solution is time-taking & involves risk while migrating large OLM files. Now, users have third-party solutions to accomplish the conversion. Among several tools available online, we have suggested one of the trusted & safest solutions for you in this post. You can check it & follow the steps discussed to get accurate results. Without any data loss, this software converts all OLM file data items to PST file format of Windows Outlook.
For the detailed inspection of this software for free, download the copy of license version and converts first 10 items per folder with it. For any other issues, reach to our customer handling team 24×7 via emails or live chat.