This article is all about knowing easy ways to open PST file on Mac in Thunderbird. Before we jump to the solution let us know the about PST file, Thunderbird, and reasons to open PST in Thunderbird email client on Mac OS.
MS Outlook, a known email client for Windows OS uses PST file to store its data. The file stores all email messages, contacts, calendars, notes, tasks, etc. On the other hand, Thunderbird is an email client available for Windows as well as Mac users.
Reasons to migrate PST to Thunderbird
Thunderbird is a reliable and open-source email program. It is friendly to use and is available free of cost. There are various features offered by Thunderbird
Multi-platform support – Thunderbird is compatible with Windows, Mac, and Linux OS. Even for Linux and UNIX users, it is the foremost choice.
Data Reliability – Thunderbird is a reliable email client and offers a friendly interface.
Cost Factor – Thunderbird is available free of cost and can be easily downloaded from its official site.
Direct solution to open PST in Thunderbird on Mac
To directly open PST files in Thunderbird on Mac, use Mailvita PST to Thunderbird Converter. This program allows instant conversion of PST emails and attachments to Thunderbird. It offers a self-interactive interface by which users can easily import PST to Thunderbird data files. Users can effortlessly import complete mailboxes of Outlook PST to Mozilla Thunderbird on Mac, keeping all folders and subfolder hierarchy intact. By ignoring empty folders, desired data from PST file is imported to Thunderbird on all versions of Mac OS.
Know the steps to read Outlook PST files in Thunderbird on Mac –
Install and start the software on your Mac sys
Use the add PST button and load PST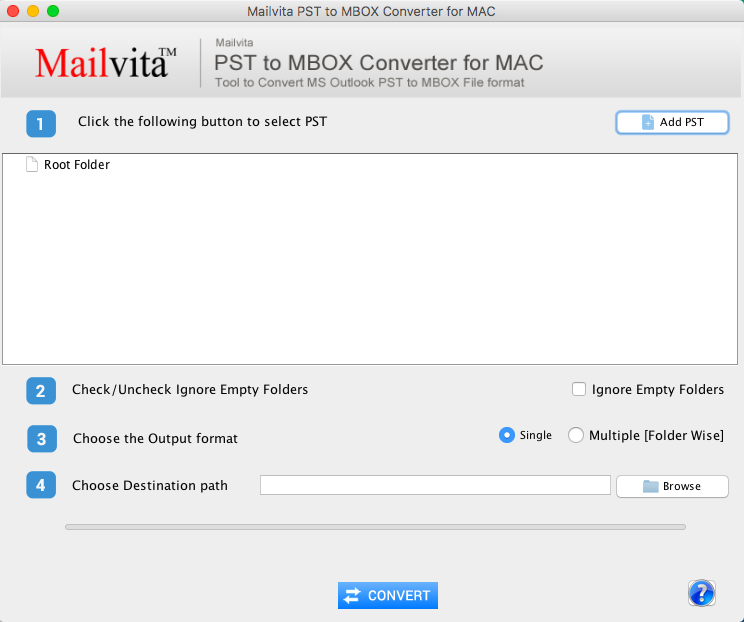 Select single or multiple option in Output format.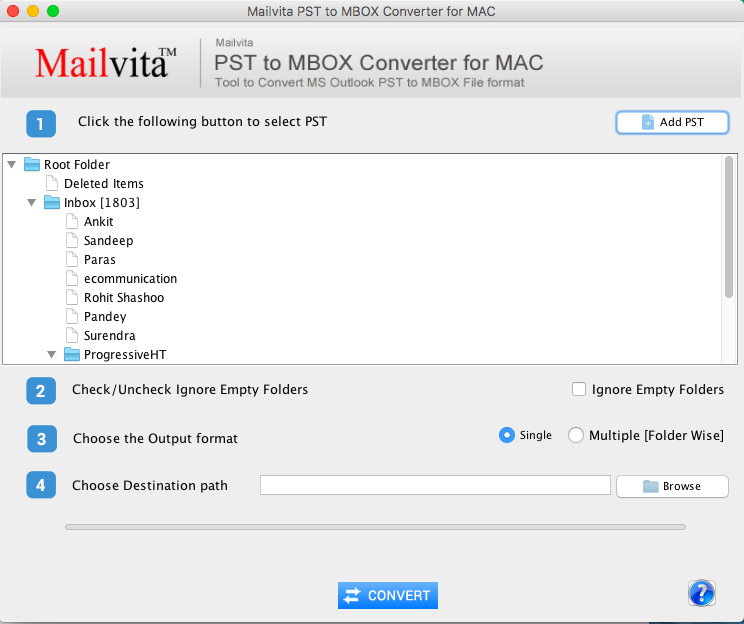 Hit the Browse button and mention destination path to save resultant files.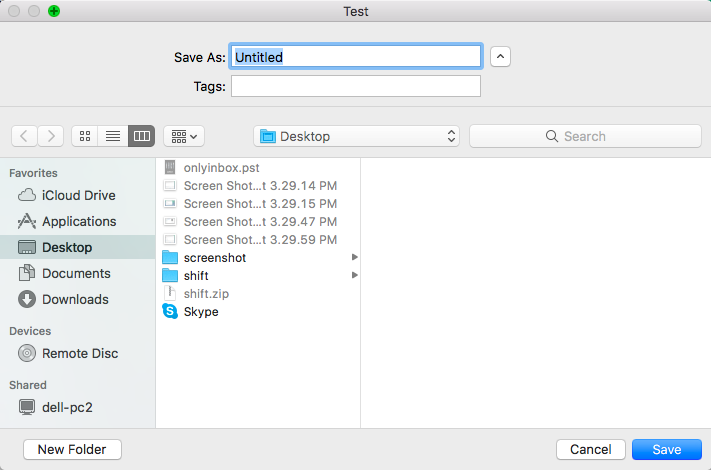 Finally, click on the Convert button to begin the migration task.
Why choose Mac PST to Thunderbird Migrator?
There are several reasons to choose this software. Let us know the major ones in detail.
Standalone program
The software is completely standalone. It does not depend on Outlook to import PST to Thunderbird data file format. Users can easily load PST files to import into Thunderbird file format on Mac with a few simple clicks.
Preserve Folder Hierarchy
With this tool, the software maintains folder & subfolder hierarchy of Outlook PST files while import PST data items. It also preserve attachments while importing PST emails into Thunderbird.
Create single or multiple files
Users can free create single or multiple Thunderbird mailbox items by conversion of Outlook PST files using this application.
No limitation on PST file size & number
Without restricting PST file size and number, users can effortlessly import PST files into Mozilla Thunderbird email client on Mac.
Free demo version for evaluation
A free trial of the software is available so that users can get aware of the features & working of the program before paying for it. However, only 10 items from each folder of PST are imported to Thunderbird with the demo version.
Concluding Lines
Undoubtedly, users can follow the above steps with this automated solution to migrate files from Outlook .pst to Thunderbird. The software is simple to use and offers 100% satisfactory results. You can examine the software with a demo version prior applying for the license keys. Instead of choosing any manual solution, we suggest choosing this third-party PST to Thunderbird Migrator Tool to get instant and effective results.
Frequently Asked Questions
Yes, why not. The software supports PST files of all MS Outlook versions including the latest 2019.
Yes, the software imports both PST emails and attachments to Thunderbird data file format on Mac OS.
No, there is no requirement for any additional tool installation to import PST data items into Thunderbird.