Overview– When Outlook works offline, several users of the app experience gray out. Why does it happen? There are several reasons that lead to grey out Outlook applications, like the application itself, add-ins, or Mac email files. The blog provides reasons for it with solutions.
Outlook is a robust email client, but it has some loopholes that cannot be denied. Only regular Outlook users can experience the day-to-day problems with Outlook and want to find out solutions.
The grayed-out Import/Export option is one of the most common problems with Outlook for Mac. Due to this importing and exporting an Outlook Data file is not possible to achieve. Users find it hard to access Outlook emails on other email clients.
Download For Mac Buy Now For Mac
Fix the Import or Export Option in Your MS Outlook for Mac
Several Mac for Outlook users uses OLM file format to save data locally and find easy access. However, the work offline feature in your Outlook allows you to work while the internet is poor and synchronize the data automatically when the connection establishes. However, the best use is to synchronize your OLM updates on your own or manually. If you practice it, the grey-out problem can fix.
Reasons for Outlook for Mac 10 greyed out
Here are some most probable reasons why Outlook for Mac greyed out.
You may be using MS Outlook in the English language, but you have installed the application in another language.
The Import/Export functionality is not available for the demo version. If you try to use the feature on a demo version, you may face a problem.
Your admin group may have blocked some features. When you try to access the blocked feature, you may experience grayed-out Import/Export option.
Outlook needs update sometimes to carry out some specific functions. You may have not upgraded your Outlook for days or months.
There may be a plugin or add-in issue that you have to rule out to let your Outlook performs smoothly.
The file size of your OLM can be large. It may lead to inaccessible Outlook.
The MS Outlook platform may have some issues because of your system errors or virus attacks.
Ways to Fix Outlook Export/Import Feature
Below are some solutions we have discussed to rule out the problem. We hope that you find these solutions helpful.
Problem 1: Using the Demo Version & Solutions
If you think that the free demo edition can complete your task, you will not be able to get the complete services of Outlook. Therefore, turn your demo version to a licensed version to enjoy features, like Publisher, OneDrive, OneNote, Access, and others.
Ensure that you are using the current version of MS Outlook. If your MS Outlook license has expired, you may experience the grey-out problem. Therefore, renew your MS Outlook to gain all the rights to use the application.
Problem 2: Your Outlook May Not Delete the Damaged File
Sometimes, the Scanpst.exe mailbox repair tool seems ineffective and enables you to repair in-depth damage to your MS Outlook. In this situation, it is common to see the grey-out problem.
You can run Outlook in Safe Mode to notice the add-ins stopping you to work offline. Here are the steps to follow:-
Close your Outlook account and hit the Command Key + R Outlook.exe/safe, and Enter the tab.]
Go to the File, then the Options menu and Add-Ins.
Hit on the Go in the Manage COM Add-Ins section.
Delete Add-ins and press Ok.
Restart Outlook.
Problem 3: Check Whether the Import/Export Feature Deactivate by Microsoft Admin
Confirm your rights to use Outlook. Sometimes, admins give some limited rights to use Outlook to its users to maintain privacy. If the Import/Export Menu has controlled by Admin, you can request to allow you to work offline.
Also Learn- Convert entire data from Mac OLM to PST file format
Problem 4: Use the Latest Version of Ms. Outlook for Mac
Steps to Resolve:
If you are using the outdated version of your MS Outlook for Mac, the problem can arise often. So, there is a need to update your MS Outlook.
If you use an old version and don't want to change the version, you can keep yourself well informed about any updates related to the tool. For this, go to File > Office Account and select the Update Options.
Don't forget to restart your system after downloading or upgrading to the latest version of MS Outlook.
Problem 5: Correct Your Language Compatibility Issue
Steps to Resolve:
It is one of the most common problems because your Outlook grey out. You may have mismatched language versions of Mac OS and Microsoft Office.
Here are the steps to fix the problem-
Open Control Panel
Choose the Date, Time, Language, and Regional options from the list.
In the Menu, select Regional and Language.
For this, provide the closely matched Outlook version
Press Ok and choose the language your non-Unicode programs use.
Automated Ways to Fix the Problem
We suggest you transfer OLM files to PST file format because Outlook for Windows is more robust than Outlook for Mac. MailVita Mac OLM to PST Converter can be an ideal application to install and run. The tool can able to import OLM to PST in bulk and doesn't require prior installation of Outlook for Mac and Windows utilities to transfer data. Hence, it is an independent application to use on your system. The utility is available for Mac and Windows users. It is a single-window application.
Download For Windows Buy Now For Windows
Below are the steps to follow to run MailVita OLM to PST Converter
Open the application after downloading it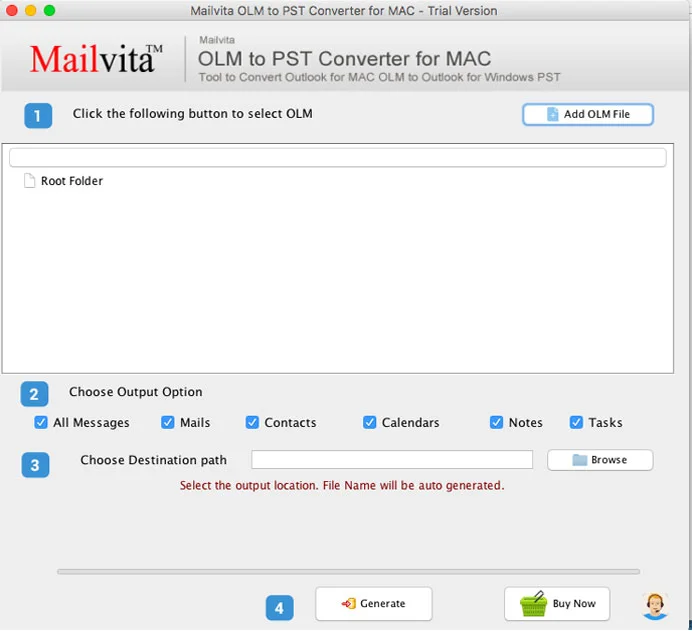 Add an OLM file of your choice
Filter the available output options- like All Messages, Mails, Calendars, or Notes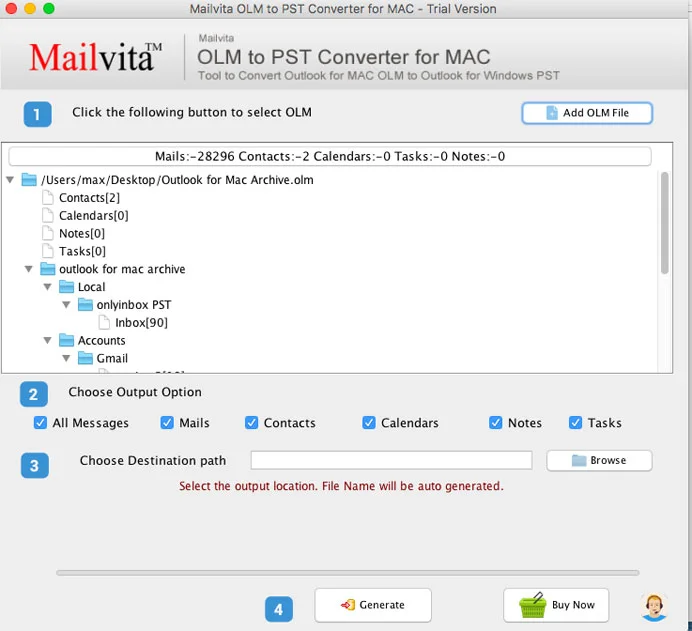 Set the output path to save the exported data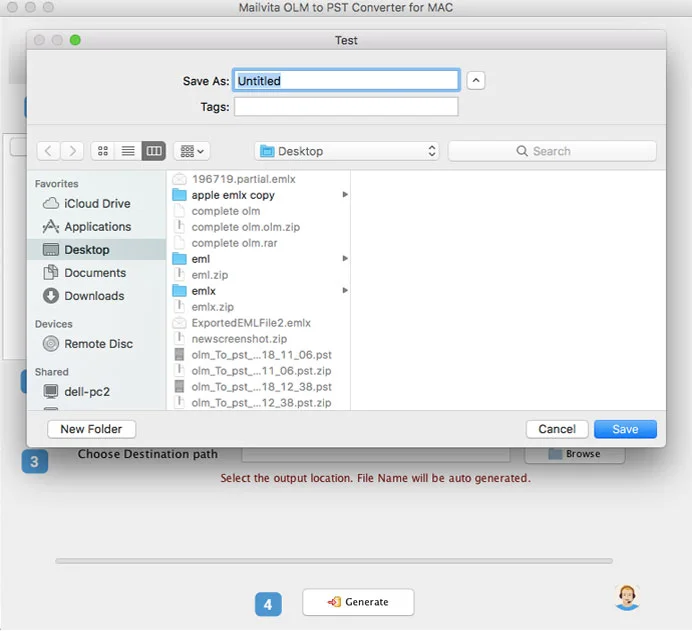 Press the Generate tab to complete the process
Conclusion
Overall, it is easy to fix the grey-out problem with your MS Outlook for Mac. If it doesn't fix, you can move OLM to PST.