EML is the file format of 16+ email clients like Thunderbird, Entourage, WLM, and many others. The email application can save emails with attachments. However, users cannot open an EML file on Mac directly . They need a tool that supports Mac, like Thunderbird. In this article, we highlight some ways to open EML files on Mac.
The article discusses manual solutions as well as automated tool. You can choose a methods of your choice.
Top 4 Solution to open EML files on Mac OS
Luckily, there are several manual solutions to open an EML file on Mac. Here we discuss the most-practiced manual solutions to access EML file files on the Mac operating system effortlessly.
1: Access EML File using Mail Application
It is one of the easiest methods to access EML files on Mac operating systems. Let's find those steps.
Steps to Read EML Files on Mac
Select an EML file that you want to open.
Double-click on the desired EML file.
After that, choose Open With to see and select the file format of your choice.
After that, select the mail application.
It will open the EML file on your selected email application.
It is one of the easiest methods to open EML Files on Mac. If you don't find the technique much helpful, you can choose another solution.
Also Read this post– To import mailboxes from Applemail to Outlook Mac
2: Changing the File Extension
There is another popular method to open EML files on your Mac system. You can practice the method.
Here are the steps to change the file extension-
Select the desired EML file and hit the Command+I tab at a time.
In the properties menu, select the Name & Extension you want.
Convert the .eml extension to .mht or .html.
A pop-up will appear where you give permission to change the extension from .eml to .mht or .html.
Press the .mht to change your EML file into HTML format.
If the above method seems suitable for you, you can consider it or move to an automated application.
3: Opening Windows Live Mail File on Mac
You must transfer the Windows Live Mail file into the EML format to open it on a Mac. Two steps must be completed to use this technique:
Simply adhere to the instructions listed below to view an EML file on a Mac.
Steps 1: Export WLM to Apple Mail
Open the Windows Live Mail program, then choose the File tab.
From the list of preferences, select Export email choices.
A new wizard appears after selecting the option for Email messages.
Select the Microsoft Windows Live Mail selection in the new wizard.
Next, choose where to put the exported EML files.
The first stage to open an EML file on a Mac is to follow the procedures above. To complete the work, proceed to the following phase.
Tips & Tricks:- Export Windows Live Mail to Outlook
Steps 2: Import the Exported EML File to Apple Mail
Navigate to the File tab in the Mac Mail program on your current computer.
Pick Import Mailboxes from the list of choices.
You can navigate to the exported EML folder using the aforementioned procedures.
Finally, your emails from Windows Live Mail will begin to appear in Apple Mail.
These manual techniques can be used to open EML files on a Mac. These methods have drawbacks despite being simple to use. Below is a selection of a select few.
4: Mailvita EML to PST Converter for Mac
Your desire to open a target EML file on PST can be fulfilled with the help of a third-party conversion utility. Mailvita EML to Outlook PST Converter on Mac can fulfill your desire. It is one of the best applications to open EML files on Mac. The utility is lightweight and easy to operate. It offers four steps for the conversion of EML to PST.
Steps to Convert EML to PST on Mac with the Mailvita EML to PST Exporter
Install and run the software on your Mac system.
Select a folder or EML files one by one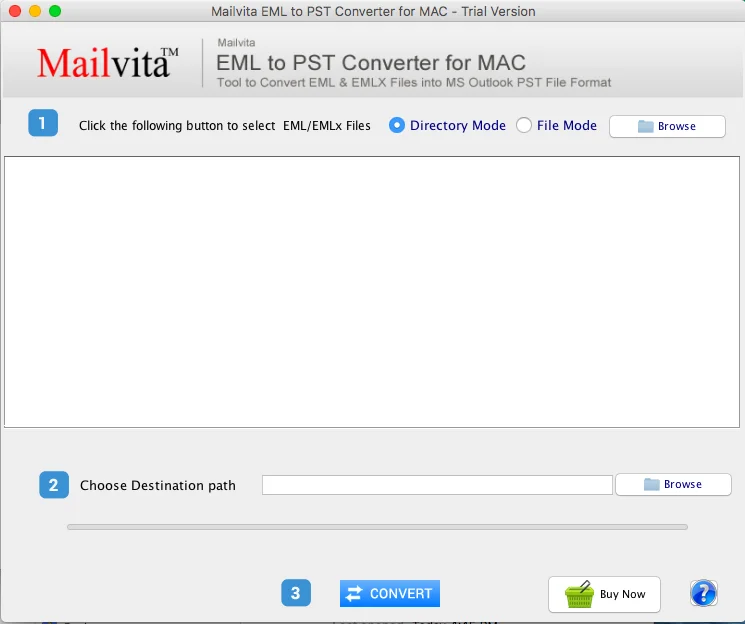 After that, choose the destination path after getting a preview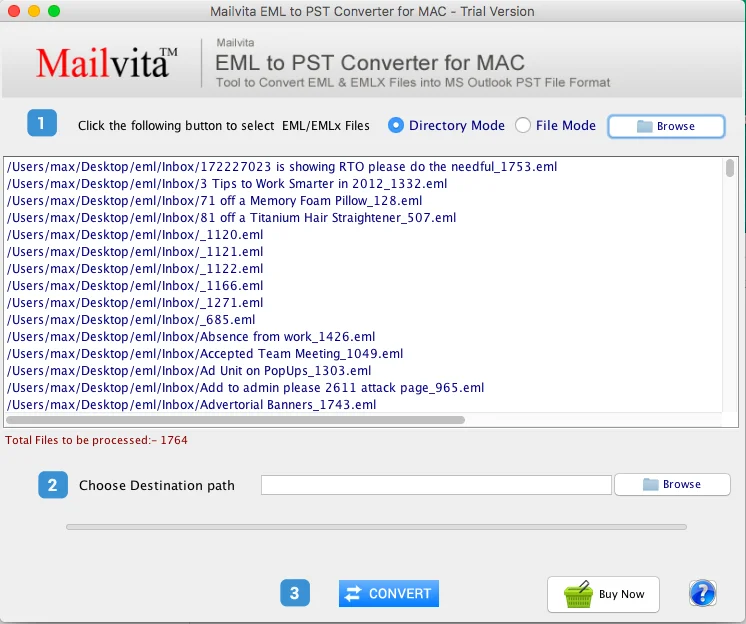 Provide a unique name to the converted file and press Save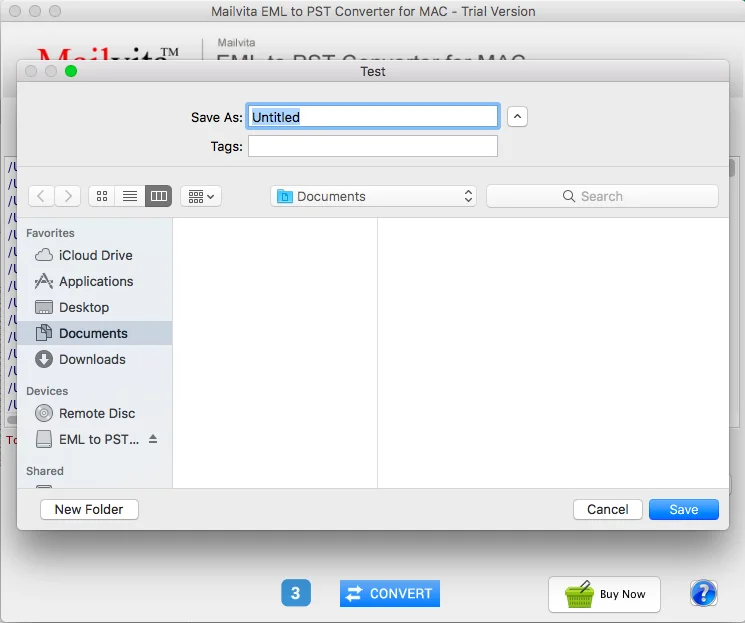 After that, hit the convert tab to complete the process
Simply, import PST file into Outlook for MAC
Choose Import from the File menu in Outlook for Mac.
Continue after selecting the Outlook for Windows archive file .pst.
Select Import after you've located the data file on your system.
Select Finish once the import process is finished.
The imported items can be found under "On My Desktop/Computer" in the navigation window.
Conclusion
An EML file supports multiple email clients operating on Windows, Mac, and Linux. It is easy to view an EML file on Mac. You can choose a manual solution or a third-party application to view EML files on Mac.