Summary: Are you looking to convert GyazMail to Outlook? You have come to the right place. Users want to convert from GyazMail to Outlook because Outlook is a more sophisticated application than GyazMail. Here we have explained the significant ways to transfer GyazMail data to Outlook.
GyazMail is an email client of macOS. A Japanese company called "GyazSquare" developed the application in 2003. Users can take the help of IMAP, POP, and SMTP protocols from GyazMail data to MS Outlook. GyazMail is equipped with several advanced features like data filtration, messaging, searching, and template creation. In addition, the application supports various plug-ins to extend its functions. GyazMail is famous for its speed and stability. It is easy to run because of its user-friendly interface.
Download for Windows  Download for Mac
GyazMail stores data in MBOX file format, which is one of the most common file formats of several email clients. It is a plain text file format that stores single or multiple emails. It uses a marker line that starts with "From" to separate one email from another.
Location of MBOX files on your computer while saving data of GyazMail-
/Library/Application Support/GyazMail/Mailbox/ directory on your macOS system.
MS Outlook, on the other hand, is an advanced email client. It supports email management, contact management, work collaboration, task sharing, and many other incredible features.
Therefore, several users of GyazMail have switched to Outlook for Windows or Mac. If you have the desire to transfer data from GyazMail to MS Outlook for Windows, you can consider manual solutions or a third-party conversion program.
Manual Conversion of Export GyazMail to Outlook for Mac
It consists of three steps. We want you to install Thunderbird and MS Outlook. Thunderbird is open-source. You can download it easily.
Step 1- Save MBOX emails as EML files
Access Thunderbird email client and create an account
Right-click on a folder and choose the 'New Folder option from the dropdown menu.
Give the folder a unique name and hit the 'Create Folder' tab.
Then, choose the targeted EML file to drag it to the new folder.
You can drag and drop each EML file or select all and choose 'Save as' to save these files in any location of your choice.
Step 2- Transferring Emails to an External Folder
You can transfer multiple emails to an external folder by using an external tool- ImportExportTools NG.
In Thunderbird, go to the add-on wizard, locate the add-on, and hit the install tab
As the add-on is installed, restart Thunderbird.
Select a folder and right-click on it to choose the ImportExportTools NG tool
Then, export all messages in the folder >> EML format.
Choose a suitable output location to save the exported data.
Step 3- Drag and Drop EML to Outlook
In this method, you can apply the drag-and-drop feature to transfer EML data to Outlook.
Access the folder where you have stored the EML files.
Select them and drag them to a folder in Outlook. It is pretty simple.
Drawbacks of the Abovementioned Manual Solutions
You may find the above method an affordable solution to export GyazMail data to MS Outlook for Windows. However, it is time-consuming and can hamper your work productivity. You may choose a weekend to consider the method. Moreover, you need technical assistance.
At the same time, you require the installation of Thunderbird and MS Outlook for Windows. It means the above solution cannot work on a Mac system. GyazMail is a Mac tool. Your MBOX files store in your Mac system. Thus, the process of conversion becomes more complex.
Automated Conversion of GyazMail to MS Outlook for Windows on Your Mac System
Here we suggest you use a Mailvita MBOX to PST Converter for Mac  It is a sophisticated application to simplify your conversion goal within a few clicks. MailVita has launched the MBOX to PST Converter for Mac and Windows users. Since GyazMail supports Mac, you can consider MailVita MBOX to PST Converter for Mac.
Buy Now for Mac  Buy Now for Windows
Significant Features of Mailvita MBOX to PST Converter for Mac
It is an award-winning application.
It helps to transfer MBOX to PST within a few clicks.
The tool doesn't require prior installation of Thunderbird, GyazMail, and Outlook, an independent program.
Bulk conversion is a sophisticated feature of the app.
It saves the exported data of MBOX to PST in a single PST file or creates a separate PST file for each MBOX file you wish to export.
It is a single-panel lightweight application to operate.
The tool is available for business, enterprise, and personal users.
The licensed version is available with lifetime validity.
Steps to Operate the Application
Download and run the program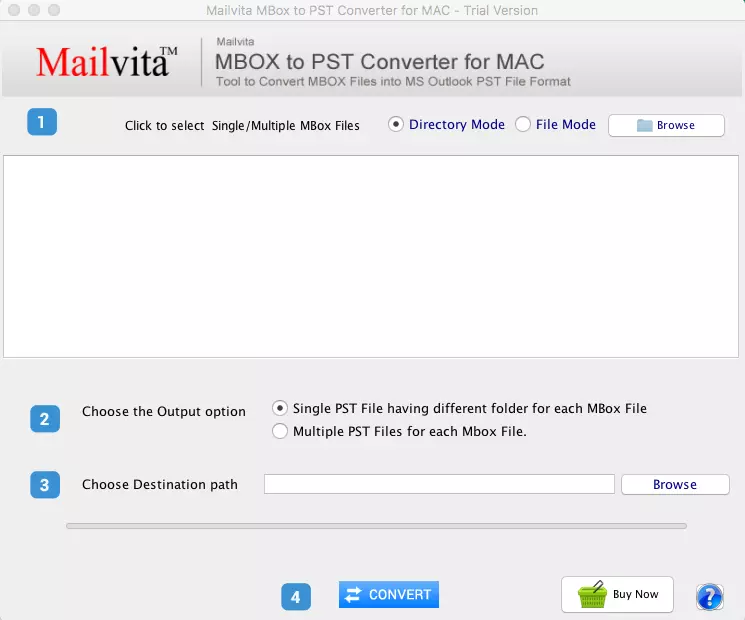 Choose the Directory Mode or the File Mode and hit the Browse button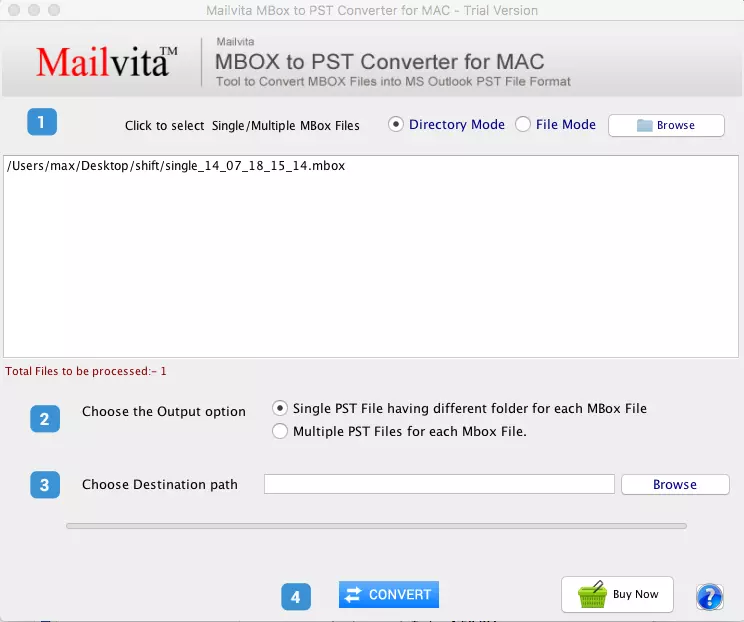 Choose a suitable output options- Single PST file for all MBOX files or Multiple PST files for each MBOX file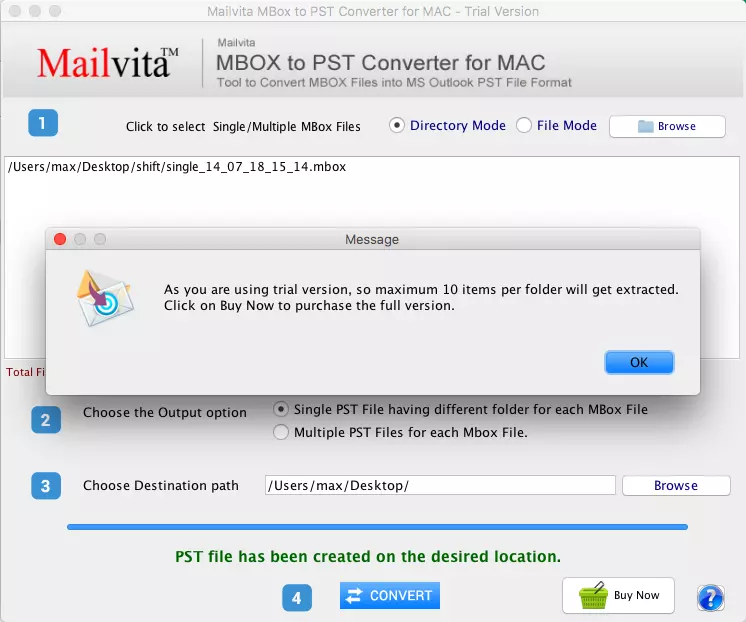 Click on the Browse tab and locate the destination path
Press the Convert tab to complete the process
Also Read: Move MBOX Emails to PST File Format
Conclusion
Overall, conversion from GyazMail to MS Outlook for Windows on your Mac system requires a third-party application. You can download the free trial version of this application to complete the process.