Apple Mail is an inbuilt program with every Mac OS. It has amazing features to provide a wonderful emailing experience. Thus, it is a popular and highly preferred email client among the majority of Mac users. But due to some reasons, especially after the Mac OS update, users are likely to stop using it and migrate to Outlook on Windows. This is because, after the Mac OS update, many users are reporting data loss issues. Thus, they are switching toward Windows Outlook. All are aware that PST is the format used in MS Outlook. Thus, to migrate Apple Mail data to Outlook, it needs migration of the MBOX file to the Outlook PST file.
Through this article, we will explore effective solutions to migrate Apple Mail MBOX data files to the PST format of Outlook.
The task of migration can be confusing and complex for users as there is no direct way for such migration.
Download Now on Mac  Buy Now on Mac
Migrate Apple Mail MBOX File to PST Data Manually
For performing manual migration, few tools are mandatory. As Apple Mail stores data in MBOX format and Outlook in PST files. So, no direct import of MBOX files is allowed in Outlook.
Tools like Eudora and Outlook Express need to be installed for manual Apple Mail to Outlook migration. This is a multi-step process and you have to follow every step very carefully.
Step 1. Import Apple Mail MBOX files
With this manual way, users can Import mailboxes From Apple Mail to different versions of Outlook such as Outlook 2021, 2019, 2016, 2013, etc.
Start the Apple Mail program
Go for option File and then pick Import Mailboxes
Now, from the list to import data, go for .mbox format and then press Continue
Browse the MBOX file in the specific path of your system
Pick MBOX and hit Continue
Once it gets completed, click on Done
Step 2. Creating MBOX file
Install the Eudora application to create Apple Mail to Microsoft Outlook PST file.
Change file extension to .mbx
Transfer file to Eudora's directory
Go to the path for moving files to Eudora's directory
C:\Documents and SettingsApplication Data QualcommEudora
Open the Eudora application and pick the .mbx file
Close the program and the file will be created
Step 3. Import emails to Outlook Express
Launch Outlook Express
Go to File, click on Import, and then hit Messages
Select the Eudora option and click Next
Browse the .mbx file, select it and click OK
Press Next, again Next, and then the Finish button
Step 4. Import Outlook Express emails to Outlook
Open MS Outlook for Windows
Click on the Open button after visiting the File tab
Pick Import Internet Mail and Addresses. Press Next button
Go with this option Outlook Express 6, 5, 4, or Windows Mail
Mark the Import-Mailbox option and press Next
This is how manual migration can be accomplished with many steps. After this, you can continue working with MS Outlook and easily access Apple Mail mailboxes in it.
Challenges come across with a manual approach
Multiple steps make it lengthy and time-consuming
You have to download extra applications like Eudora and Outlook Express
An error by the user's end can result in heavy data loss
Good technical knowledge is a must to complete the conversion
Due to multiple steps, users may confuse and this leads to repetition of the complete process
Automatic Solution to Migrate Apple Mail MBOX files into Outlook PST
The manual method can work well if users follow every step carefully but due to the limitations of the manual way, users failed to get the expected results. Thus, users look for another solution that can maintain data integrity throughout the migration task.
You can simply avoid the risk of data loss by using an automated MBOX to PST Converter. This program will not only make the migration flawless but assures you 100% safety to the database during the migration. It will save your time and efforts by providing you with expected results in very less time.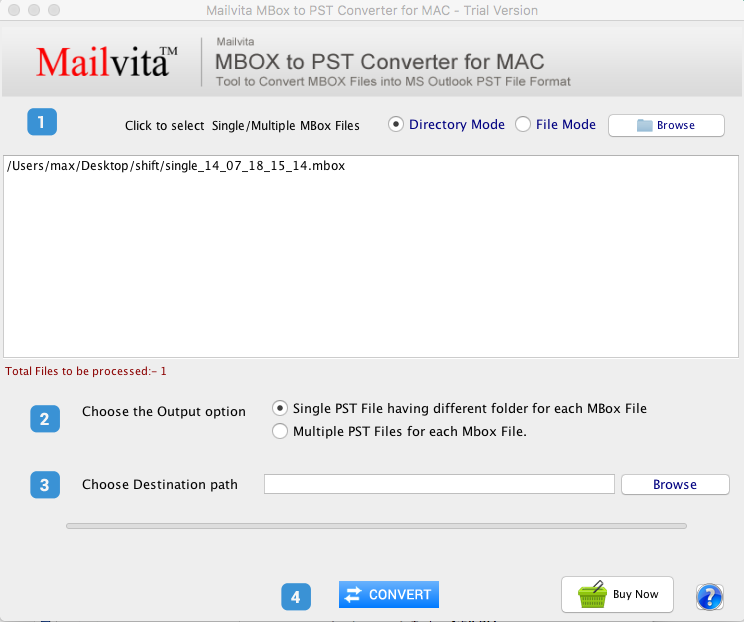 This transforms MBOX files directly into PST format in a few mouse clicks. Thereafter, users can open this exported file in MS Outlook on Windows. You don't even require additional tools for the migration of Apple Mail files to Outlook files. There is a facility for bulk migration that makes the migration task effortless. No harm to attachments, email components, and other details during the migration.
You can get a complete trial of the program for accessing the performance before purchasing the software.
Download Now on Win  Buy Now on Win
Conclusion
The migration process of Apple Mail MBOX data files to PST is really a tough task for a majority of users. Step-wise proper execution is required to get smart and safe results. This post presented two methods for migration. You can either do it manually but very carefully or simply pick an automated program to get instant & effective results. The best part of an automated solution is its simplicity, assurance of safe results, and migration speed.