Summary: OLM is a Mac Outlook data file that stores items like emails, contacts, attachments, notes, etc. With this post, we have explained in detail the OLM file extension with its features, recommended size, location, and steps to import/export OLM file to other Outlook profile on Windows and Mac.
Microsoft Outlook uses three formats OST, PST, and Mac Outlook to store mailbox data. OST and PST files are created in Windows Outlook whereas OLM belongs to Mac Outlook. OLM file, not the default file created by default. Outlook for Mac creates. OLK file that stores a local synchronized copy of mailbox items such as emails, attachments, contacts, etc. from Exchange or email server. However, users can export mailbox items from Outlook Mac to OLM files at their system location.
What is the Mac MS Outlook file and what items can the OLM file store?
OLM file is used by Outlook for Mac to backup, import, or migrate Mac Outlook files to another system or Outlook for Mac profile. Microsoft Outlook was first introduced as Outlook Mac 2011 and later come with Mac Outlook 2016 and 2019 versions.
An OLM file can store all mailbox items like emails, contacts, notes, calendars, tasks, etc. including the archive data.
Location of Mac Microsoft Outlook file
Users search for OLM file location. However, the MS Outlook Mac file is not created by default in Outlook for Mac and there is no default location for the OLM file. Therefore, you can't find the OLM file unless you have exported the mailbox items to the OLM file via Mac Outlook.
Mac Outlook users can freely export OLM files to any desired location.
MS Outlook Mac File Size
There is no limit defined for OLM files but it is recommended to keep the folder size in Mac Outlook is under the 2 GB limit. This is for optimal performance and avoids problems with Mac Outlook-like corruption and data loss.
The problem with Mac Outlook is you can't find or check the folder size unless you drag & drop the email folder to the desktop or any other folder location.
Advantages of OLM file
Outlook OLM file allows users to transfer their emails from one Outlook Mac profile to another. This helps users to retain their old emails when they upgrade their Mac OS or Outlook version.
Outlook for Mac users can also backup their emails on OLM files and then import them easily to any Outlook profile on Mac.
Disadvantages of Mac Outlook file
OLM file has a few drawbacks that you must know.
OLM file extension is built for Mac OS or Outlook for Mac. You can't import OLM files (like PST) to Outlook on Windows. However, using third-party OLM to Microsoft Outlook Converter Software such as OLM to MS Outlook Converter Tool, to Import OLM Mailbox Items Into Outlook on Windows.
Next is when you export the OLM file from Outlook for Mac, all items like contacts, all profiles configured in Outlook for Mac to a single OLM file. It does not provide the option to export selected email folders or items from individual profiles to OLM.
Another disadvantage of the OLM file is it does not sync with a mailbox on the server. Thus, you can read emails or items locally, but those items will remain on your local drive only.
How to create or export an OLM file in Outlook for Mac?
To create or export an OLM file, you need to follow the given steps in Outlook for Mac 2011, 2016, and 2019. You can follow the given steps –
Steps to export OLM file in Mac Outlook 2011
In Mac Outlook 2011, go to the File menu and select Export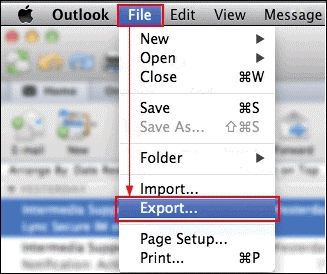 Choose the items which you want to export in the OLM file. Once you have selected the items, click on the Right-arrow.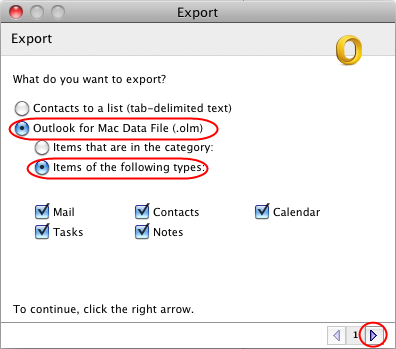 Select No, do not delete items to keep exported items in current Mac Outlook. You can choose Yes, delete items once they are exported if you want to delete the exported email items. Click Next arrow.
Enter the file name and choose the saving location, Click on Save

This makes Outlook for Mac 2011 start exporting email items into OLM files.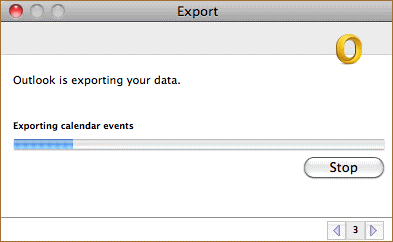 After the export, you can import the OLM file to a different Outlook profile on another Mac.
Steps to export OLM file in Mac Outlook 2016 or 2019
Open Outlook Mac 2016 or 2019. Go to Tools and click

Select the mail items that you want to export to OLM from the Export to Archive File (.olm) window and click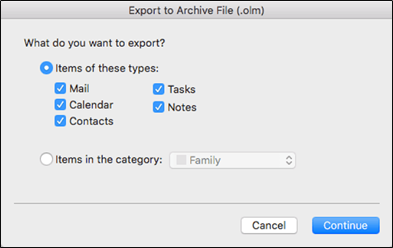 Enter the file name and choose a location to save the file. Click on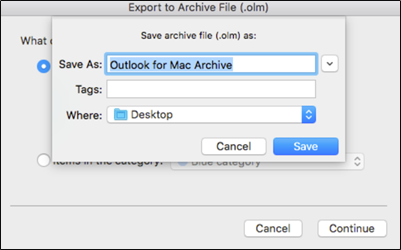 This will save the selected items from Outlook for Mac in OLM file format. Now, click on Finish
How to import OLM files to Outlook for Mac or Windows?
You can conveniently import OLM Mailbox in another Outlook for Mac or Windows by using the Import option in Outlook for Mac 11 under File – Import and in Outlook for Mac 2016 or 2019, under Tools> Import.
However, you can't import OLM to Outlook for Windows as on Outlook for Mac. PST file is supported by Windows Outlook. Therefore, you must convert the OLM file to PST file format. Once the conversion is completed, you can easily import the converted PST file to Outlook for Windows with Import/Export wizard.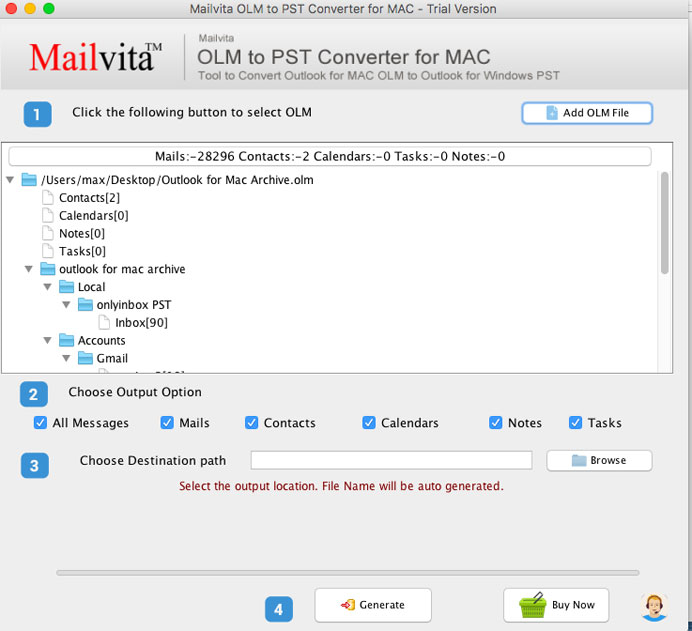 The software offers smart conversion of Mac Outlook data items. Users can comfortably convert any size Mac Outlook OLM file to save into PST file format. You can use this software both on Windows and Mac systems.
The program allows the conversion of selective items from the Mac Outlook OLM file. Users can get a detailed preview of OLM data items in a hierarchical order before exporting them into PST file format.
You can download a free version and evaluate Mailvita OLM to PST Converter Tool for free. Once you find the software suitable for you, you can activate the software license.
Concluding Lines
I hope this post helps you to understand about OLM data file. We have provided a solution to open OLM files in Mac Outlook and Windows Outlook Apart from OLM file details. For any queries related to Mac Outlook to Windows Outlook Conversion, freely contact the technical team of the software.