PST file is the well-known file used by Windows Outlook. It has the capacity for complete database storage like emails, notes, contacts, tasks, journals, etc. But when users need to access PST files in MBOX-supported email clients on Mac OS they need to convert PST files to supported email client file formats like Apple Mail, Thunderbird, Entourage supported MBOX files. It is not easy for users to convert PST data files into MBOX format.
Users who need to switch from Windows to Mac OS 12 Monterey (Apple), need to move Outlook data to MBOX format on Mac OS. However, the conversion process is not simple. Through this post, let us know the complete process to convert PST emails to MBOX files on Mac OS.
Download Now on Mac   Buy Now on Mac
Manually Convert Windows Outlook File to MBOX Format on Mac OS 12
Scenario: Joseph finds some orphan PST files on his system. Being Mac OS 12 user, he uses Apple Mail and he knows very well that Apple Mail does not support PST files. He wants to know the easiest solution to convert PST data files to MBOX format to access PST files on a Mac machine.
Solution: Apple Mail accepts MBOX files so if you need to import PST emails to Apple Mail on Mac OS 12 Monterey, you need to perform PST to Apple Mail MBOX conversion.
By using the Mac Outlook program, one can easily migrate PST email files to MBOX file format.
Open the Mac Outlook 2019, 2016, or 2011 version on a Mac machine
Hit Import option followed by File option
Select Outlook file (.pst or .olm) option and click on Right-arrow
Pick Outlook for Windows file (.pst) and then again click on Right-arrow
Navigate to the location of the .pst file and select it
Hit the Import button and the PST file will be moved successfully into Mac Outlook
Open the Mac Outlook home screen under the My computer section, you will find the imported file
Drag this folder to your Mac desktop and you will get data in MBOX format. Now, open these MBOX files using the Import option in Apple Mail on Mac OS 12.
Note: This method will take a considerable amount of time and needs Mac Outlook installation for performing the conversion.
Convert PST File Data to MBOX Format on Mac OS 12 Using Thunderbird
Scenario: Maria uses Outlook on Windows at home. She needs to send Outlook data to one of her colleagues who is a Mac user and had only Apple Mail on his system. So, she needs to convert the Outlook file to MBOX format to open in Apple Mail. She is looking for a reliable method to migrate Outlook data files to MBOX format on Mac.
Solution: To migrate Outlook .pst data items to Apple Mail MBOX format, there is no straightforward solution. For this, users need to take the help of another desktop email client i.e. Mozilla Thunderbird. Here, we offer you the whole process of migration using Thunderbird. But prior to this, properly install Outlook and Thunderbird on your system.
On your Windows system, type Default App Settings in the search box. Then, click on the search result.
In the list of default applications, check for Outlook as the default application. If not, hit on an email that is default and then chooses Outlook from the list. This will make Outlook your default email app.
Now, open Thunderbird and go to option Tools from the menu bar. This will show a list of items where choose Import.
Select the Mail radio button and hit the Next button.
Pick the radio button Outlook and then hit the Next button. Finally, hit the Finish button. When all data of Outlook is imported into Thunderbird, open
Default App Settings again. Now, make Thunderbird as the default app for the system.
Now, again open Thunderbird. You can locate folders containing Outlook data. Go to Tools and then on ImportExportTools. Here, select Export Folder (.zip) and set the location for the file.
Once you extract the .zip file, you will get MBOX files. Now, transfer the files on a Mac machine & import them into Apple Mail or another compatible email client.
Note: This method will surely consume a lot of time and it needs Outlook & Mozilla Thunderbird installation on the Windows system.
Need A Better & Instant Solution: Use Automated Program
Since above mentioned manual ways involve the installation of other email clients, thus many users find these methods lengthy & complicated. Hence, they look for a better solution that is easy, quick, and straightforward. So, here is a professional solution i.e. MailVita PST to MBOX Converter for Mac. This solution is direct and will independently convert PST email items to MBOX format on Mac OS
This program superbly runs on the latest Mac OS 12 Monterey and below versions without any complications. In a few simple clicks, PST emails & attachments are conveniently exported to MBOX format using this application.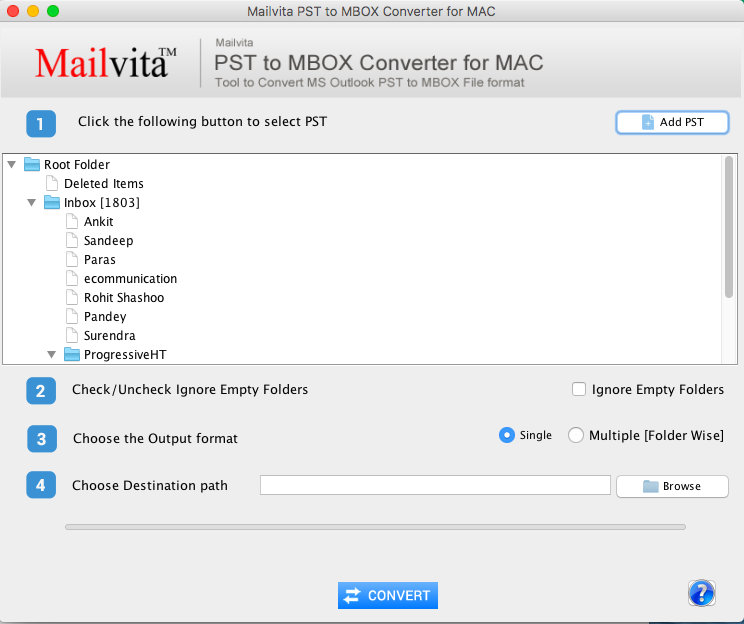 With this program, users can convert PST data files easily into MBOX format. After this, users can open this MBOX file on Apple Mail Mac OS.
Noteworthy features of the software:
Perform standalone conversion of PST email data to MBOX format on Mac
Migrate PST files to single or multiple MBOX files on Mac
No requirement for Outlook or another supported email client for the conversion
Comfortable with PST files of all types such as archived, orphaned, Unicode and password-protected
Safe and accurate conversion results in very less time
Free demo edition for all Mac users to evaluate the software
Download Now on Win  Buy Now on Win
Conclusion
I believe you have got the answer to your query regarding the conversion of PST data file items into MBOX format on Mac OS 12 Monterey. This article has compiled all available solutions for the conversion. Manually, it would be a tough & complex process hence high ratings & recommendations for the automated solution is there for the smooth and safe conversion of PST data items into MBOX format on Mac.