Summary: Whenever you want to export Mac Mail to an external Hard drive, the demand is to export Mac to Windows. In this post, we decipher the method for transferring data from Outlook for Mac to Outlook for Windows. You can continue reading if you are utilising both platforms.
Download for Mac Download for Windows
Mac Mail or Apple Mail is a free utility for Mac users. If you want to export Mac Mail to MS Outlook for PST, we first transfer Mac Mail to MS Outlook for Mac and then MS Outlook for Mac to MS Outlook for Windows. Here we first transfer Mac Mail to MS Outlook for Mac manually and then take assistance from a third-party application to extract OLM to PST. It is how the process can become fast and easy.
To transfer emails from Mac Mail to Outlook for Mac
Below are the manual steps that you can follow for conversion.
Open Mac Mail and choose the mailbox or folder that you want to export.
Go to the "File" menu and from the drop-down, select "Export Mailbox."
Select the desired location where you want to save the exported data. Provide a unique name to the file and choose the format "Apple Mail" and press "Save."
Access Outlook for Mac and go to the "File" menu.
From the drop-down, select "Import" and choose " Files or Folders."
Navigate the recently saved Mac Mail file from the desktop and select it.
Select the "Import items into the same folder in" option and then choose the folder on your Outlook for Mac to save the imported emails.
Hit the "Import" button to start the process.
As the process is done, you can access your Mac Mail emails in Outlook for Mac. Here, you may see some differences in the formatting or metadata.
Professional Solution – MailVita OLM to PST Converter
It is one of the most often requested programmes OLM to PST Converter for exporting particular OLM files to PST on Windows and Mac. If you have the license for Mac, you can use the software on a Mac system. Similar to this, you can use the app on Windows 10, 8, or 7 if you have its licence for Windows.
The application is available for individual, business, and enterprise users. You can get its license as per your requirements. The app is awarded with Shareware awards for its smooth and uninterrupted conversion.
Buy Now for Mac Buy Now for Windows
Significant Features of the Program
Export Data in Bulk
The application supports conversion of as many OLM files as you desire in one single go. As a result, users can able to achieve the conversion goal quickly.
Export Whole Folders of OLM to PST
The export utility allows users to export entire folders of an OLM file to PST, including emails, notes, contacts, tasks, and messages.
Export Specific Folders of OLM to PST
One of the main draws of the software is custom conversion. By offering options, it enables users to export particular folders from an OLM file to PST. See the reference image below for choices for customised conversion.
Save Output to the Desired Location
After conversion, the utility saves the exported data to the directed location. It saves the file with a custom name.
Interactive User Interface
The app interface is interactive. You can operate the app independently without technical obligations.
No Prior Installation of Outlook
It is an advanced app. It doesn't need prior installation of MS Outlook for Mac and Windows.
Unlimited Conversion
The app manages to export as many Outlook files as you desire in one go. At the same time, the licensed version is available for indefinitely.
Steps to Run the Application
Download the application and start it by pressing its icon
Press the Add OLM File tab to select locally saved OLM files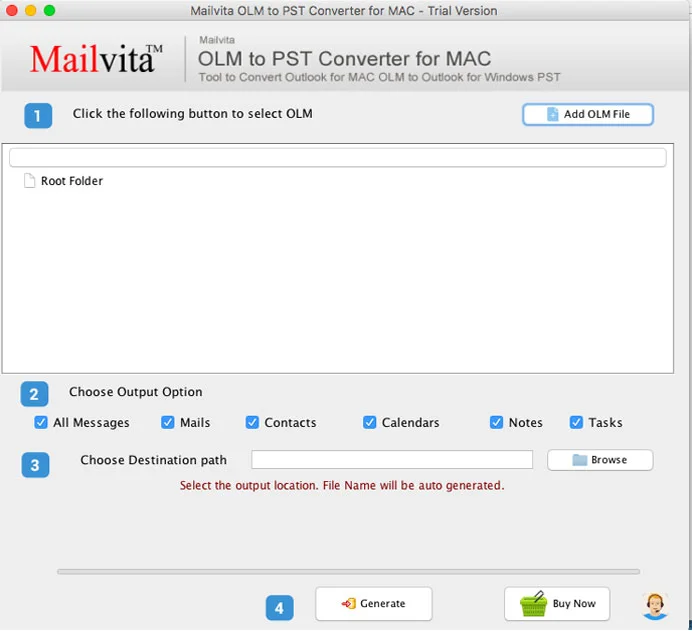 Select the data you want to export like all Message, Calendars, Notes, or Tasks (you can select more than one option)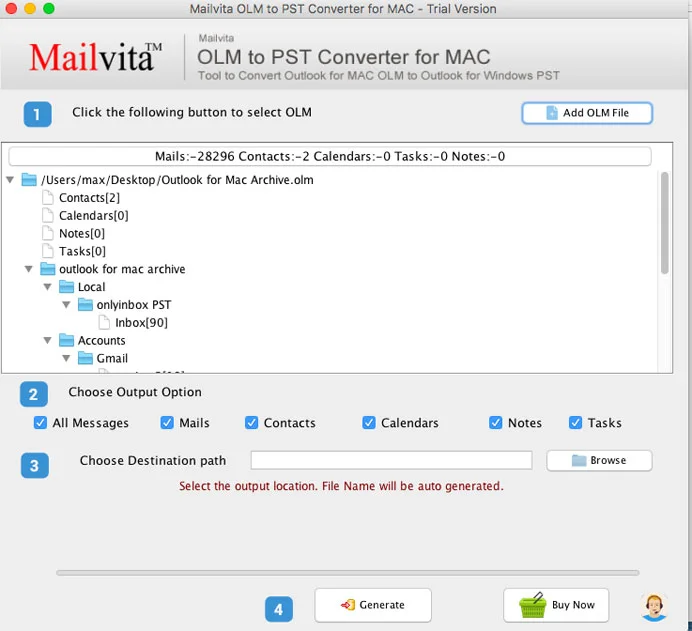 Hit the Browse tab to choose an appropriate location to save the exported data to a local folder
Give the file a unique name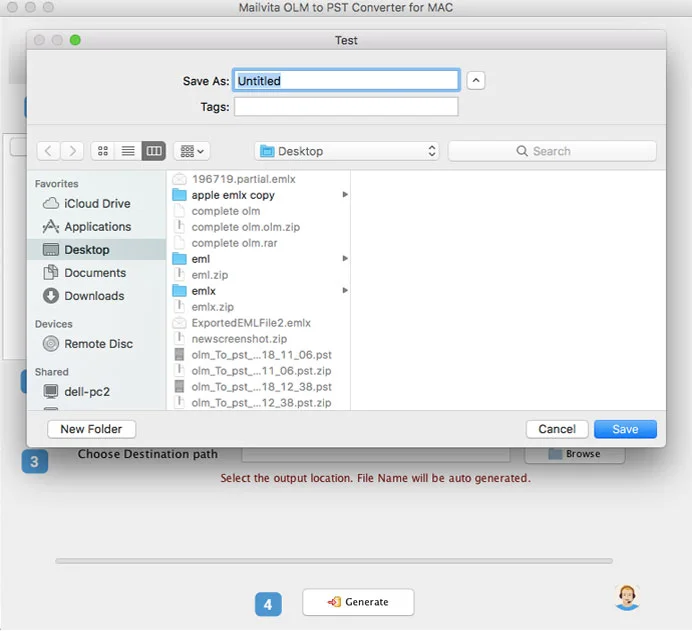 Press the Generate tab to complete the process
Conclusion
Overall, users want to export from Mac to an external hard drive when they want to share data of Mac to Windows, Linux, or other Operating Systems. To make the conversion aim simpler, you can think about using a third-party conversion tool. You can select from a variety of third-party programmes. Use a trustworthy app by examining its rating and reviews.