In this article, we will discuss how to split the Outlook PST file into parts. Here, you will know all possible reasons due to which the need for splitting PST files in Outlook arises.
No one recommends large PST files as they are prone to corruption. The highest limit for ANSI PST is 2 GB and Unicode is 20 GB in Outlook 2007, 50 GB in Outlook 2010, 2013, 2016, and 2019. Oversized PST files degrade Outlook performance and are the biggest threat for users.
Following Alternative to Break Oversized PST data into small PST files
Use Split Outlook PST professional program
To get rid of these issues, splitting the Outlook PST files is the solution. This will upgrade the performance and save your PST file from corruption. Now, the main question is how to Split Outlook PST data files? To know the answer, go to the next section of this post.
Methods to Break Oversized PST file into multiple PST files
Unfortunately, Outlook does not offer any inbuilt option for dividing PST files. Therefore, we hereby provide manual ways that will help you to break PST files into small size PST files.
Method 1. Move to Folder Option
This method does not break or divide oversized PST files but moves data of oversized PST files to new PST files and helps reduce PST file size.
Launch MS Outlook
Click on the File tab, then click on Account Settings and again on Account Settings
After that, click on Data Files and then on Add button to add a new PST file.
To add PST files, move to Home and open the old PST files
To make them move, click on the Move tab. Then, click on the 'Copy to Folder' wizard.
Select a new PST file to move selected items.
After moving old PST data to new PST files, delete the items which have been moved. Repeat this process again.
Method 2. Import and Export Option
Launch Microsoft Outlook
After that, click on File, then click on Open & Export, and then Import/Export
Choose Export to file and then click the Next button.
Select Outlook Data File and then click the Next button.
Select folders to export & export subfolders, then check option 'Include subfolders'
Use the Browse tab and select location to save the exported file. Also, check 'Do not export duplicate items' and hit the Finish button.
In the end, set a password to the exported PST or you can skip this.
With these steps, you can create a new PST file and export data in it. This method will help you in reducing the size of the PST file.
Next Alternative to Split Oversized PST files into small PST files
Manual methods are complicated, need technical expertise, and also have the risk of data loss. Not any manual solution is there that directly break oversized PST file into multiple parts. For this, you need an alternate solution i.e. using a professional tool. Using Mailvita Split PST Software, users can directly split any size PST file into multiple parts in a few clicks. This utility is user-friendly and easy to handle by everyone. Even users without technical expertise can use this software without any hassles. The software comes with various useful features. Some of them are given below:
Features provided by the software are:
The software efficiently split oversized Outlook PST files without damaging data integrity and folder hierarchy.
The software supports splitting Outlook PST files based on size.
It does not depend on MS Outlook for splitting any size PST file.
This utility supports both types of PST files – ANSI and Unicode. It comfortably works with all versions of MS Outlook.
A free demo version is available. Using it, users can check the efficiency of this program.
The best thing about this software is you can use it on all Windows as well as Mac versions.
It provides quick and safe results without any alteration to original data files.
How to use this professional program?
Install and Open the software on your system (Mac or Windows).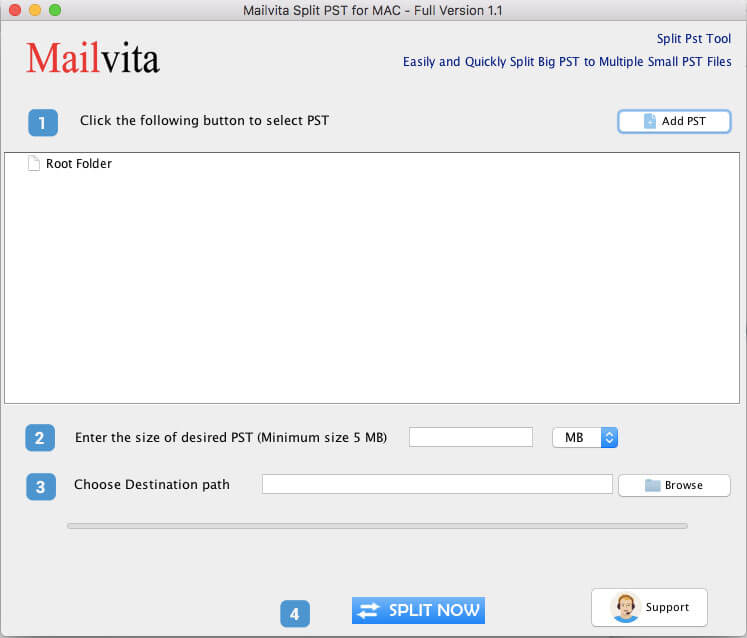 Choose PST file by clicking on Add PST button.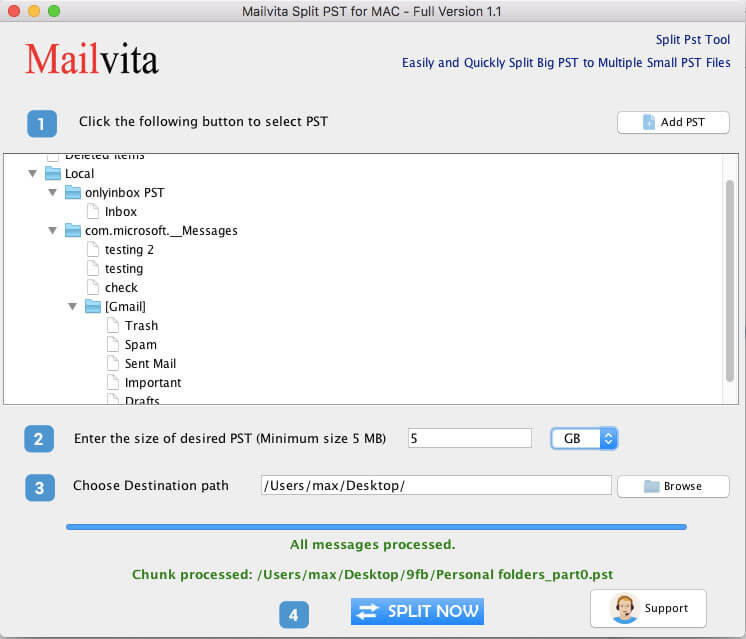 Enter the size of desired PST.
Choose the destination path for saving resultant PST files.
Hit the Split Now button.
Conclusion
Splitting oversized or large PST files is a must to avoid data loss & corruption issues. Through this post, we have discussed manual and professional ways for splitting Outlook data files. Manually, it can be tough for a few users and it needs Outlook installation. On the other hand, an automated solution is simple as well as not dependent on MS Outlook. You can comfortably use this program on both Mac and Windows platforms.