Summary: Are you looking for a backup of Office 365 on your Mac system? Your search would end here. Office 365 backup is necessary for several reasons. The article provides some reasons why users like to move from Office 365 and also provides an effective solution to back up Office 365 data.
About Office 365
Office 365 is an advanced cloud-based email application. The subscription-based cloud provides users with access to various productivity and collaboration tools, including Microsoft Word, Excel, PowerPoint, Outlook, OneNote, Publisher, and Access. With Office 365, users can find real-time access to the database because the tool is compatible with multiple devices, such as desktop computers, laptops, tablets, and smartphones.
Office 365 can integrate with Exchange Online to offer email and calendaring features. It offers cloud storage. Teams for online collaboration and communication feature allows users to attend work online in one file at a time. It increases productivity. Office 365 often updates automatically to provide users with the best experience. You have flexible subscription plans to choose the one that fits your needs.
With an Office 365 subscription, users can receive regular updates and new features as they are released, and they can also access their files and documents from anywhere with an internet connection. The service is available for both personal and business use and offers different plans and pricing options depending on the user's needs.
However, you can access your Office 365 account until you have an active subscription and your internet connection is smooth. If the subscription plan ends, you cannot access your Office 365 account. Moreover, a poor internet connection also disables your Office 365 account.
Also Read:- Import Office 365 contacts to icloud account
Backing up your Office 365 account data is required for several reasons
Here are listed reasons.
Accidental deletion: Backup of emails and files is essential when you or one of your colleagues may delete an email accidentally. In this case, you have a backup of the email.
Cybersecurity threats: You never know when your account is hacked is attacked by ransomware, viruses, and malware. Backup of your data can help you a lot in this situation.
Compliance and legal requirements: Depending on your industry and location, you may need to back up your cloud data in a safe location. At that time, what will be the best option for a desktop-based email client like Thunderbird?
Account Suspension: If your subscription plan has ended, your Office 365 account becomes inaccessible. In this situation, you may with losing your important emails, files, contacts, and other databases.
Overall, it is essential to backup up Office 365 account data.
Mailvita Office 365 Backup Solution – One of the Most Well-Recommended Application
Mailvita Free Download Office 365 Backup for Mac is one of the most sophisticated applications to operate on your Mac system. The application enables fast and secures backup of Office 365 data to multiple file formats. It allows users to create a backup of selective folders of Office 365 to provide a custom backup solution.
Prominent Features of Mailvita Office 365 Backup & Restore Application
Create a backup of the users' specified Office 365 account
Enable to backup of one Office 365 account data
Enable to backup as much Office 365 account data as you want
Connect automatically with your Office 365 account after providing the credentials
Create a backup of a selective folder or entire folder of your Office 365 account
Enable you to extract and save the Office 365 account data on PST, EML, EMLX, MSG, and MBOX file format
Allow user to export data in multiple MBOX for each folder or create a single MBOX file for each folder
Save the exported data to a local folder
The license validity of the app is unlimited
An independent application to run independently without the assistance of Thunderbird and other applications
Steps to Use the MailVita Office 365 Backup Solution
Download the application on your Mac system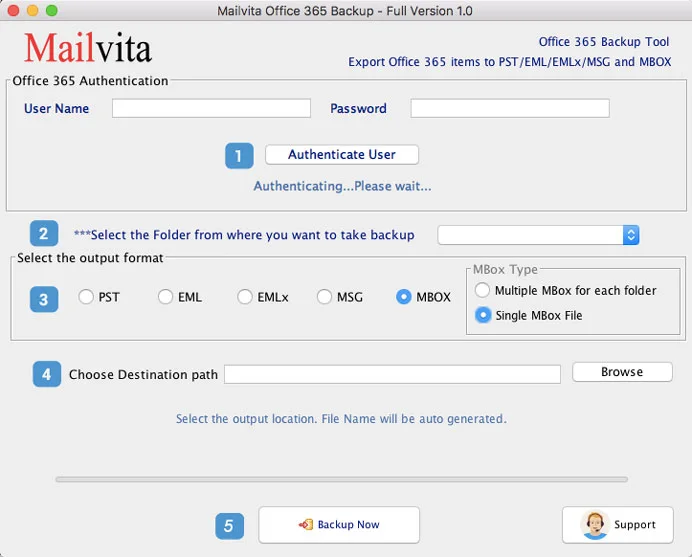 Enter the User Name and password and click on the Authenticate User tab
Select the Folder you want to backup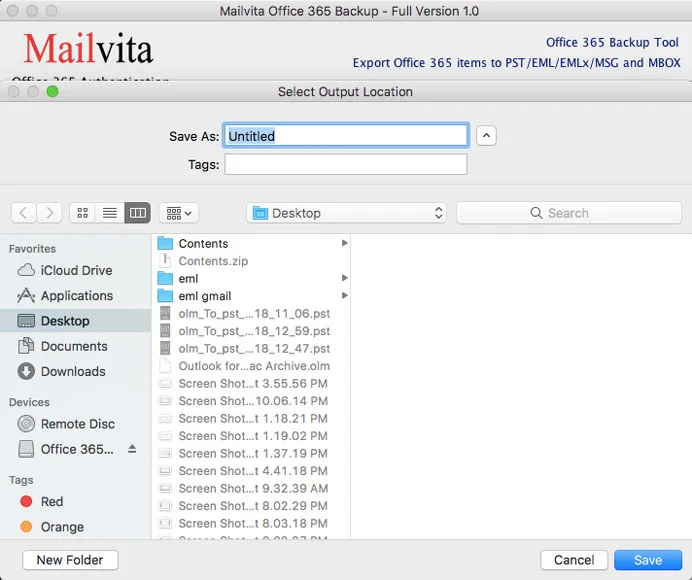 Choose the file format you want to backup- PST, EML, EMLx, MSG, or MBOX
Choose the destination path where you want to save the PST file
Click on the Backup Now tab to complete the process
Conclusion
Overall, manual backup of Office 365 has challenges. You may lose your important emails. At the same time, conversion may not be complete. You may end up converting emails without attachments. Therefore, many users like to go with a third-party application for the backup of Office 365 account data. You can also do the same.