Summary – Are you a Windows Live Mail user and want a solution to transfer Windows Live Mail emails and contacts to Outlook? Then, you are at the correct post. Microsoft does not have any option to import Windows Live Mail emails to Microsoft Outlook. Through this write-up, we provide you with the perfect methods to transfer Windows Live Mail emails and contacts in Microsoft Outlook.
Windows Live Mail is one of the widely used email clients offered by Microsoft. But sometimes, managing data in Windows Live Mail becomes tough for users. Microsoft Outlook is a highly popular email client used globally. It has a .pst file to save all your Outlook data. It delivers amazing features because of this WLM users need to migrate to Outlook. Outlook is comparatively low in cost and serves smart features like data security and better data management.
Thus, the reasons for migrating Windows Live Mail emails to Outlook are clear. But how this would be possible? So, let us know this with the help of this article. Let us know and explore all ways to import Windows Live Mail to PST files.
Why do users need to import Windows Live Mail to MS Outlook?
Users find managing emails in Outlook convenient as Outlook is widely known for data management features.
Outlook has a huge user base when we compare it with Windows Live Mail.
Windows Live Mail has been discontinued by Microsoft. Therefore, users can get updates for Windows Live Mail.
Sometimes WLM users get error 0x800ccc0f which can affect the system security and overall performance.
Experts' views about WLM to MS Outlook Migration
It is clearly stated that Microsoft has discontinued Windows Live Mail but that does not mean that the services are shut down, only new updates are closed. Microsoft attempts to link its old users to new technology like Outlook and Office 365.
Microsoft won't provide direct assistance for Windows Live Mail.
Now, users are restricted to update & download this email client on the official website.
Are you still in confusion, is it right to move toward Outlook? Here are some errors of WLM. If you encounter these errors, you can switch to Outlook anytime.
HTTP Mail errors
Remote access error
Internet Message Access Protocol errors
General errors
Winsock errors
Simple Mail Transfer Protocol errors
Available Methods to Import Windows Live Mail data to MS Outlook
Here, we provide you with currently used solutions to import Windows Live Mail emails and contacts into Outlook.
Manually transfer WLM emails to Outlook
Manually transfer Windows Live Mail contacts
An automated way to move both emails & contacts
Both methods have different procedures. When you compare both methods, you will find the automated solution is much easier and highly suggested to use, whereas a manual method has several steps and hence it will take much time.
Below, we have explained both methods with their merits and demerits so that you can choose the best solution.
Export email items from Windows Live Mail:
Windows Live Mail users provide the benefit to export emails from WLM. Then, you can import emails to Outlook 2019, 2016, 2013, etc.
Run your Windows Live Mail program. Then, go to File, Export emails, and then on the email message.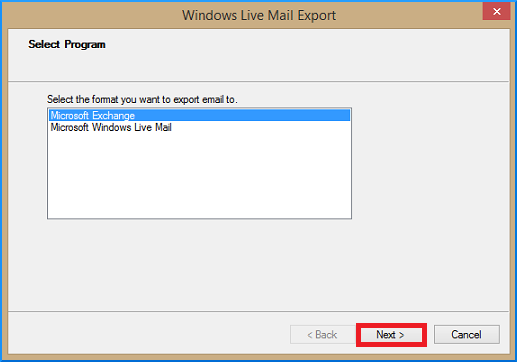 Pick 'Microsoft Exchange' from the options and tap on the Next icon.

You will find a pop-up message, hit OK to continue.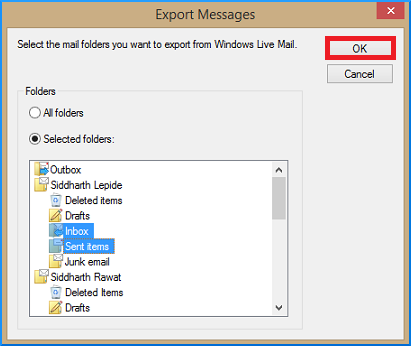 Now, pick Outlook from the options and hit the OK button.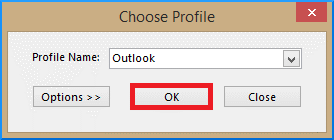 Pick either all directories or desired folder from the Export message dialog box before you hit OK.

You can check the status of the export process.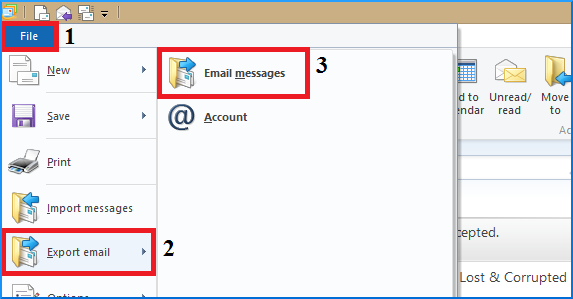 Then, you will get a notification for successful export.
Export Windows Live Mail emails using Drag & the Drop method
Transferring emails from Windows Live Mail is a copy & paste work using the drag and drop method. You need to create a new folder in the Outlook email client and paste all Windows Live Mail emails to this newly created folder.
Navigate to: C:\Users\(username)\AppData\Local\Microsoft\Windows Live Mail
Copy or download all data items
Start MS Outlook and make a new folder with the name WLM.
Drag and drop all email data in this folder to finish this task.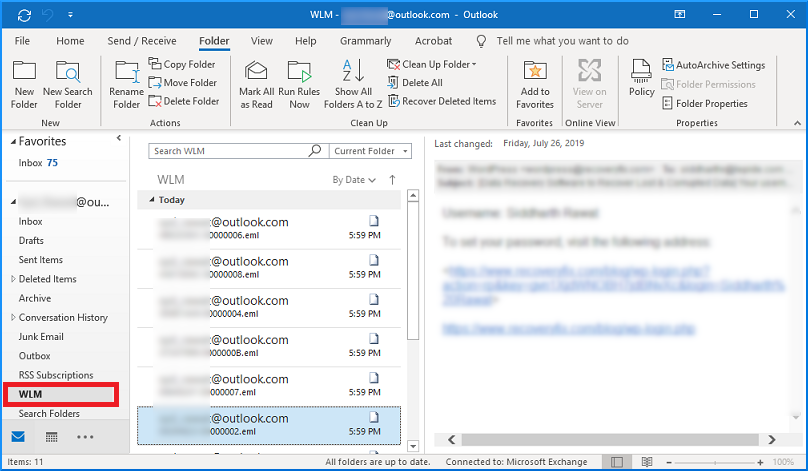 You can't export Windows Live Mail contacts to Outlook by following this drag & dropping action. For this, you need to export Windows Live Mail contacts to CSV format and then import this CSV file to Outlook.
Transfer WLM contacts to Outlook (via CSV) (Outlook 2007-2010)
 Open the Windows Live Mail application
Hit the Contacts option and choose contacts to export from WLM.
Now, hit the Export option from the ribbon bar and pick CSV as the file format. Now, set a destination to save the CSV file.
In the next wizard, mention the contact fields to export and hit the Finish button.
In this way, Windows Live Mail contacts are smartly exported into CSV files. Next, you need to import this CSV file to MS Outlook via Import/Export wizard. This process may slightly vary for different versions of Outlook.
Import CSV contacts into Outlook (2007-2010)
In Outlook, select Contacts from the left pane.
Navigate to the File option and hit Import/Export option.
Now, go with the option Import from another program or file option.
Pick the Comma Separated Value (DOS) and press the Next icon.
Now, pick the CSV file created above and pick the desired option to manage duplicates.
Finally, select the contacts folder in Outlook and press the Next icon. Also, you can map custom fields if needed.
You can export WLM contact items to Outlook 2007 and 2010 versions using the following process. For Outlook 2013 and above versions, the process is discussed below:
Export WLM contacts Comma Separated Value (.csv) file to Outlook 2013, 2016, 2019 & 2021
In MS Outlook, tap on the File option.
Now, choose the Import/export option after choosing the Open & Export option.
Pick the option Import from another file or application. Tap on the Next button.
Pick Comma Separated Values and add a CSV file. Also, filter duplicates using the required option.
Pick the contacts folder of MS Outlook and map custom fields as per your needs.
Drawbacks to manually moving Windows Live Mail email messages to Outlook
Generally, users encounter many issues in the manual export of WLM messages to Outlook. Here are some drawbacks of using a manual trick:
Need a lot of time and effort is required for performing the conversion.
Transferring attachments of Windows Live Mail emails is not possible using the manual solution.
During the manual conversion, it may be possible that some portion of data can be lost.
Mandatory to install both email applications i.e. Windows Live Mail and Microsoft Outlook.
Specialized Method to import Windows Live Mail data to Outlook
To avoid the limits of the manual method, we advise users to opt for an automated solution. One such smart solution is EML to PST Converter that can quickly and securely Windows Live Mail email messages to PST with attachments. Along with this, the program offers many smart features that attract users a lot. It permits easy and bulk conversion of Windows Live Mail EML files to Outlook file format. This software supports Mac and Windows OS versions. Using this utility, there is complete data security during the migration process.
Steps to migrate WLM data to Outlook with this software:
Install and run this application to Migrate Windows Live Mail to Outlook.
Add the required EML files exported from Windows Live Mail. Select Directory Mode & File Mode and Click on Browse Button.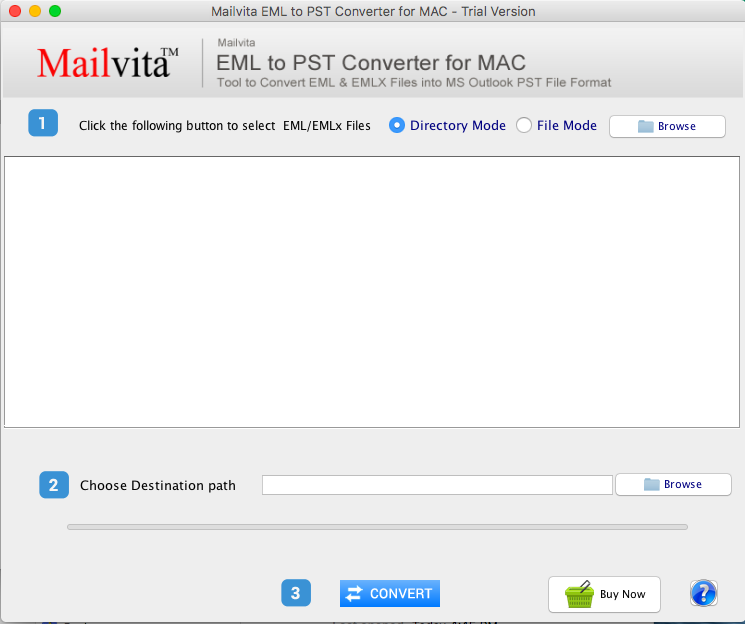 Choose the Outlook PST option in the Export type.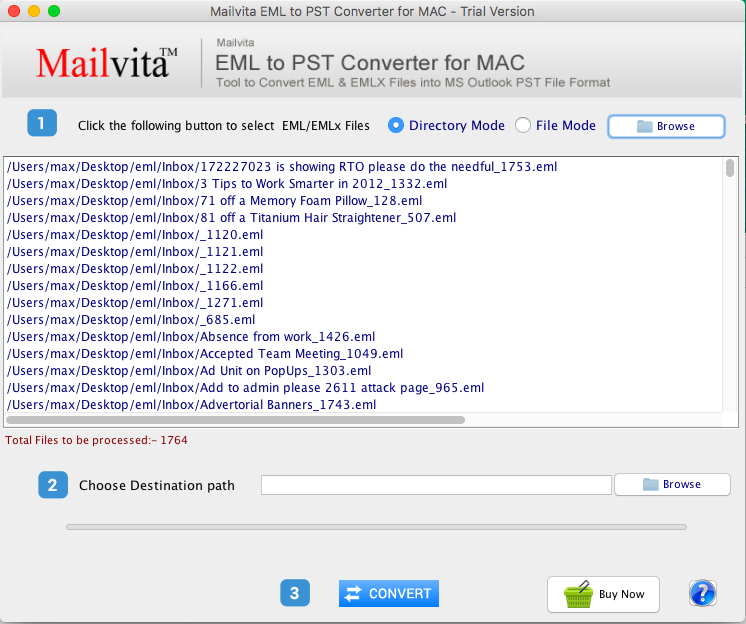 Mention the required path where you want to see the Outlook PST file.
Place the mouse pointer on the 'Convert' button to commence the process.
After getting data in the PST file, you can read this PST file in all Outlook versions.
Conclusion
Shifting from Windows Live Mail to Microsoft Outlook is a trend these days. While importing Windows Live Mail data items to Outlook, users come across many issues. Thus, to solve them, this post has clearly mentioned manual as well as automated methods. The manual way has limitations due to which users prefer using an automated program. A free trial of this utility is available so that you can check this software by importing a few items per folder.