Summary: The easy DIY tricks to convert OLM file to PST file is explained in this post. Through these tricks, users can perform smart & successful conversion of Mac Outlook files to Windows Outlook PST files with ease.
The outlook program is developed in such a manner that users can work with it on Windows as well as on Mac platforms. The only basic difference between both platforms' outlooks is their file format. In Mac Outlook, all mailbox data is saved in an OLM file but in Windows Outlook, all data is saved in PST file format. Thus, when users switch from Mac to Windows but want to stick to Outlook, they need to the conversion of OLM data file to PST file format.
Now, here the question arises is why users want to migrate OLM data items into PST file format. Also, we will know the solutions to perform Mac Outlook mailbox to Windows Outlook conversion.
Situations Responsible for OLM file to PST Conversion
There are numerous reasons why users need to convert OLM mailbox data to PST files.
Due to the immense popularity of Windows Outlook, people move towards it and change the Mac platform to the Windows platform. The advanced features and simple interface of the program force users to perform the conversion.
A situation may be a temporary requirement. Let us assume you receive an email from Mac Outlook and your current platform is Windows Outlook. So, you can't open this email in Windows Outlook. For this, you need to convert emails from OLM format to PST file format.
DIY Method to Convert OLM data items to PST file
Below are easy DIY tricks to convert OLM email items to PST files manually. This complete process is categorized into four parts.
Generate IMAP Email Account
Open your Gmail or another email account. Tap to Settings option
Under Settings, choose Forwarding and POP/IMAP option
Pick option Enable IMAP as it is disabled. Now, hit Save Changes
Set up Mac Outlook via IMAP account
Launch Mac Outlook program
Navigate to Tools and then click on the Accounts tab
Under Accounts, pick the Email accounts option
Here, provide details like email address and password
Provide IMAP Server and choose SSL connection, SMTP Server, and 465 as the port numbers. Hit Add accounts
Transfer Mac Outlook Emails to this IMAP account
Here, open Mac Outlook
Right-click on the mailbox item you want to convert. Go to Move and then on Copy to folder
Enter your IMAP account name and hit the Copy button
Now, update your IMAP account by clicking on Send/Receive Now, all your OLM emails are available in your IMAP account.
Setup Windows Outlook with the same account
Go to Control Panel. Under Choose Email accounts, click on New
Pick Manually configure server settings and click on Next
Choose IMAP/POP Settings and hit the Next button
Enter details of IMAP and Incoming/Outgoing server. Hit on More Settings
Now, go to the Advanced tab and enter the 993 port number in IMAP Server and choose SSL connection.
Provide port number 465 of SMTP Server and pick SSL connection, click
At last, click on the Next button and then hit the Finish
Automated Solution to Convert Mac Outlook data to Windows Outlook
In case, you feel the manual DIY solution fails to perform the conversion successfully then we have an alternate solution i.e. Mailvita OLM to PST Converter Software. The process of conversion with this software is much easier than the manual solution. It smoothly converts OLM files and all data items into PST file format without any hassles.
This utility comes with several valuable features listed below:
It can swiftly migrate Mac Outlook OLM file emails, notes, contacts, calendars, tasks, and other items to PST file format.
The program will support the export of any heavy OLM data file into Windows Outlook PST file format.
The software permits safe and errorless conversion of OLM data items to PST file format.
Show added OLM files list prior to export to PST file format.
Comfortable with all versions of Mac Outlook, Windows Outlook, and Windows OS.
The utility performs standalone conversion of OLM mailbox data to PST file format.
This toolkit ensures the safety of email formatting and actual folder hierarchy during the migration process.
Free examination of this utility is available for conversion of the first 10 items per folder.
Working guide with this software:
Properly install and open the software for Outlook for Mac to Outlook for Windows conversion.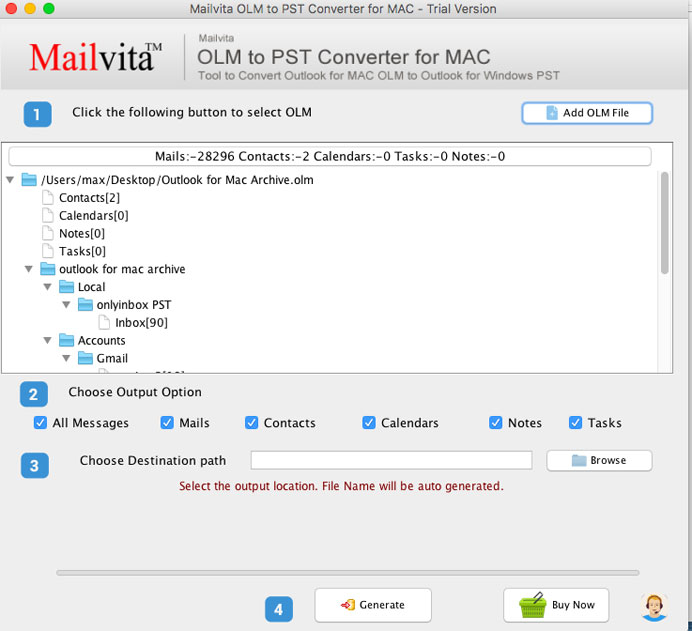 Add the required Mac Outlook OLM file(s) that you want to convert.
Check added OLM files list and their number prior to the conversion.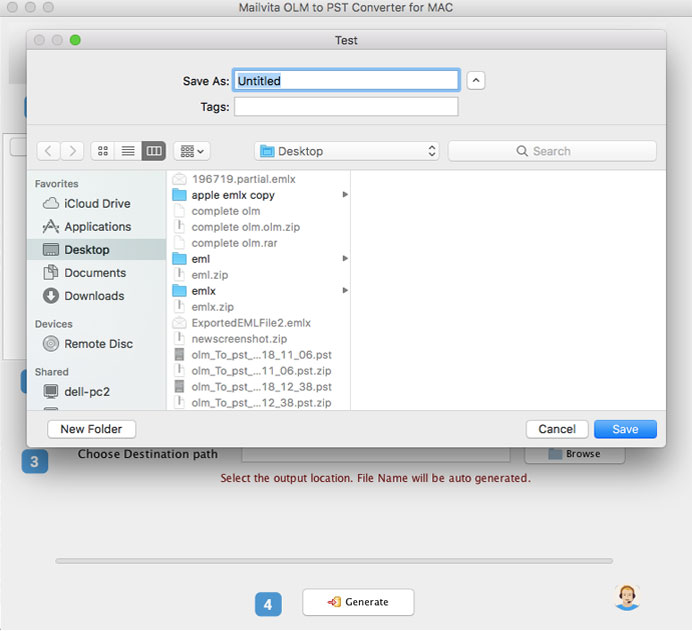 Go with Export to PST
Now, set the required path to save the resultant PST
Tap the Convert button to commence the conversion process.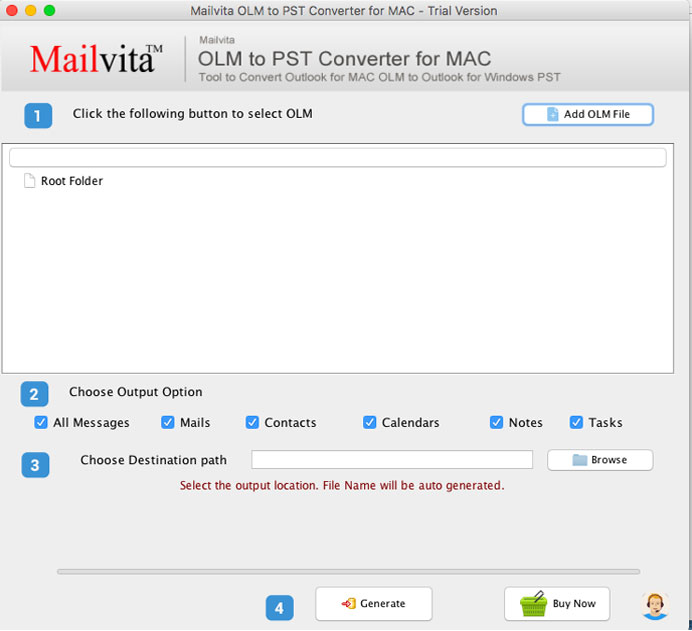 Just a few minutes wait, and you will get a successful conversion notification on the software screen. Now, check added OLM file data items in the PST file at the decided path on your system. This PST file is now ready to open with any Windows Outlook version like 2021, 2019, 2016, 2013, 2010, 2007, etc.
Conclusion
I think you will find this post useful and all your queries for OLM data file to PST conversion come to end. We have discussed two different solutions for the same. The prime one is a DIY manual solution which involves lots of manual efforts hence the high risk of data loss. Another one is an automated solution where you need to simply add an OLM file & the software will automatically process the file and provide data in PST file format which is well supported in Windows Outlook. Try out this professional program by downloading the demo edition before you decide to purchase it.