Through this blog, we will evaluate the complete process to import MBOX data files into Outlook importable PST file.
MBOX is a common mailbox storage file that is very flexible format to access on various email applications. MBOX format helps users to store email messages. This file format is supported by more than 20+ email clients such as Thunderbird, Apple Mail, Eudora, Entourage, etc. As compared to Microsoft Outlook, it offers a facility to store all emails, contacts, calendars, tasks, journals, etc. Therefore, the majority of organizations lead towards Outlook. MBOX file users are preparing themselves to access MBOX files in MS Outlook 2021, 2019, 2016, 2013, 2011, etc.
Microsoft Outlook saves all its data in PST file. This is one of the highly organized file formats, which saves all Outlook mailbox data in it.
Microsoft Outlook supports multiple advanced features & updates. Therefore, nowadays users prefer Outlook over MBOX.
Reasons to Convert MBOX files to Outlook Importable PST files
There are multiple reasons why users need to import MBOX data files in Outlook. Thunderbird is one of the known email clients used worldwide. The common reason for preferring Outlook over Thunderbird is high security and data management features of Outlook.
Also, when users switch from Apple Mail (Mac) to Outlook (Windows), they need to convert Apple Mail mailboxes to Outlook PST file format. One can easily perform multitasking with Outlook which is not easy to perform with Thunderbird.
Challenges faced while converting MBOX emails to MS Outlook
There is no direct way to convert MBOX data to Outlook.
Outlook does not support MBOX files and there is no way to import MBOX data files.
4 Methods to Convert MBOX email items to Outlook
Here, we describe 3 manual methods and a professional method to convert MBOX messages to Outlook importable PST file.
1st Method: Drag & Drop Method
Install and launch Outlook in the system to access MBOX files.
Pick the email folder in Thunderbird & save them in EML file.
In Outlook, make a new folder to import selected emails.
Drag and drop the locally saved EML files in Outlook.
2nd Method: Using Email clients
This method consists of 4 stages to complete the MBOX import process to Outlook:
Export emails data in MBOX through Mozilla Thunderbird
Import MBOX files from Thunderbird to Eudora
Move MBX files from Eudora to Outlook Express
Importing emails from Outlook Express to Outlook
3rd Method: Configuring Gmail account
Open your Gmail account.
Hit the gear icon under Gmail page. Open Gmail settings and choose the 'Forwarding & POP/IMAP' option.
Pick option 'Enable IMAP'
Configure the IMAP account and select option for Save changes.
Note: To apply these methods, one must install Thunderbird and Outlook on your local system.
Now, run Thunderbird on your system.
The dialog box for Mail account setup will open. Provide the required information and press the Continue button.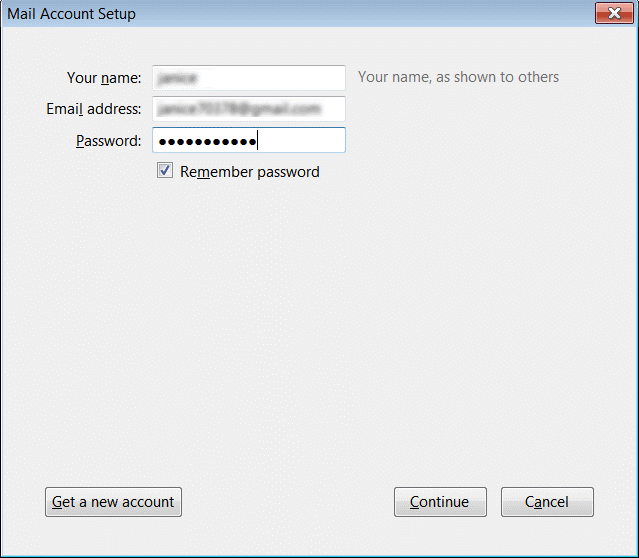 Enable IMAP checkbox and pick 'Manual configuration process.'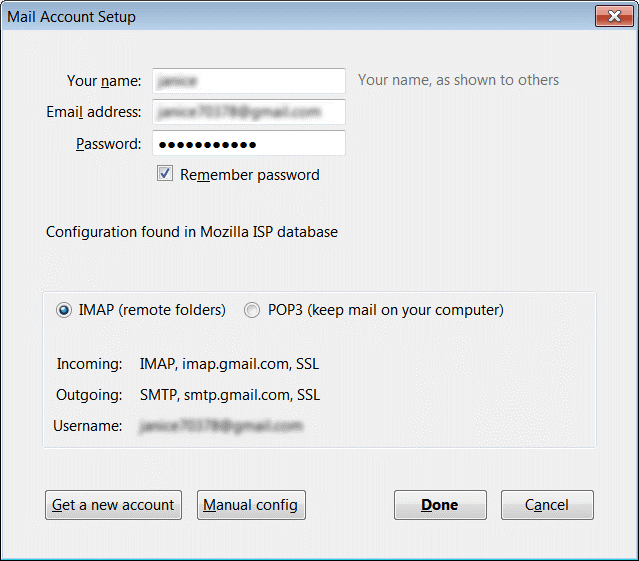 Enter the asked information for incoming and outgoing.
Hit the Re-test button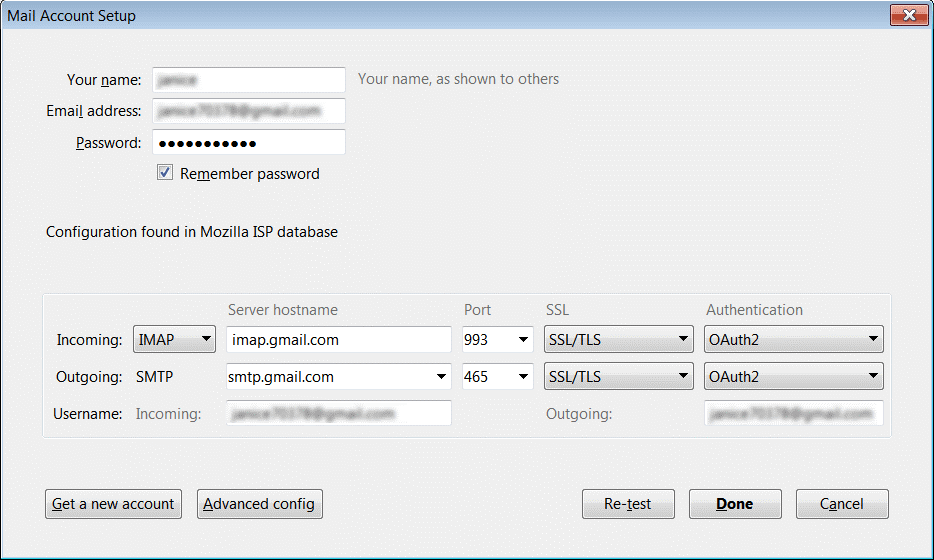 After entering the required details, tasks will complete. Choose 'Create a new account.'
Now, verify your Gmail account from Thunderbird.
Now, drag & drop the file into Gmail inbox to import MBOX database files in Outlook.
Steps for importing MBOX files in Microsoft Outlook:
Go to the File menu and hit add an account
Choose the manually configure server setting option or additional server types.
Choose the Internet mail option and hit the Next button.
Pick IMAP option for IMAP mail account in the account type.
For the incoming server, type .gmail.com and outgoing server type smtp.gmail.com. Now, hit the 'More settings' option.
In the outgoing server, select my outgoing server (SMTP) needs authentication and use the same settings, select my incoming server option and enter 993 port number under incoming server's port.
Then, choose the server require an encrypted connection option to set encryption to SSC for IMAP mail account.
In the outgoing server port, provide value 587. Set the encryption type TLS & then press OK.
Pick Test account settings option. This option is to check the account setting. Now, users will get a message your account setting is correct. Press the Next button.
Hence, users can get all data into Outlook with Gmail configured profile.
Drawbacks to manually convert MBOX emails to Outlook importable PST file
Users don't want to prefer manual methods when exporting large or multiple MBOX data files.
You may lose attachments, email properties and folder hierarchy.
There is a high risk of data loss and corruption while exporting mailboxes manually.
Manual approaches consider a lot of time and risky solutions.
Automated Program to Export MBOX email files into Outlook
Therefore, to simplify the conversion process, this article also offers an automated solution i.e. Mailvita Convert MBOX files to Outlook Importable PST files. This provides an instant conversion into PST file and hence users can open MBOX messages to Outlook importable PST file. This program holds the capacity to import MBOX mailboxes to Outlook 2021, 2019, 2016, 2013, 2011, 2010, etc. You can utilize this amazing solution on all popular versions of Mac and Windows OS.
Also, this program permits users to browse multiple MBOX files in a single attempt to convert into PST file format. This utility provides a free version so that users can test it by converting the first 10 items per folder.
Steps to convert MBOX mailbox data to Outlook importable PST file:
Launch this suggested product on your Windows or Mac OS.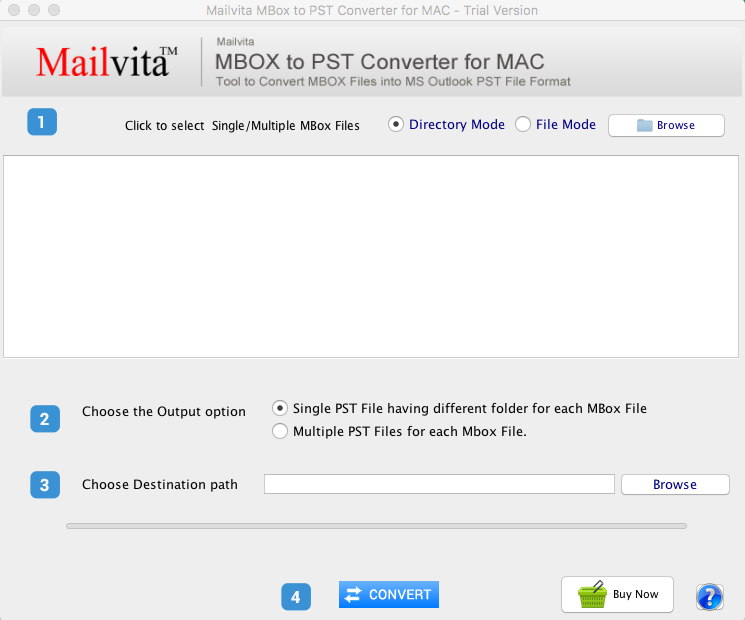 Pick the directory or File mode and upload the desired MBOX files.
Then, pick a single PST or multiple PST options from the output option.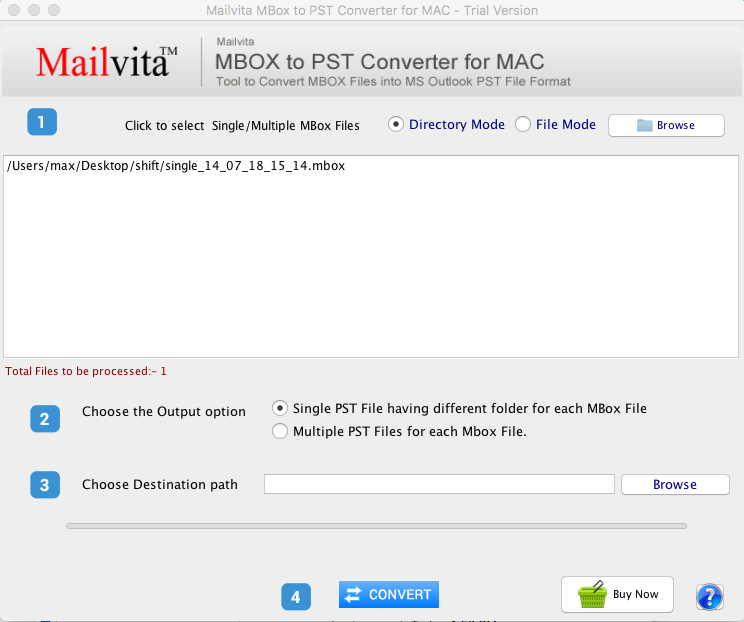 Set the destination path on your system where you want to save the PST file.
Finally, place the mouse cursor to the 'Convert' button.
This will provide you with all MBOX data items into PST file which is easily readable in all editions of Outlook.
Conclusion
From the above discussion, it is very clear that manual tricks are lengthy and are not preferred by professionals for converting MBOX email files into PST file. To execute the conversion effortlessly you should choose a professional utility. You are also able to download it for free before purchasing.